Welcome to St John's, Settle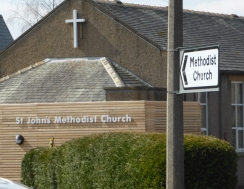 Our Church - on the route of the Flying Scotsman - Settle Carlilse Line Reopening Day: 31 Mar 2017 7.30pm St John's Church. Settle
Sat 20 May - Simeon Wood in Concert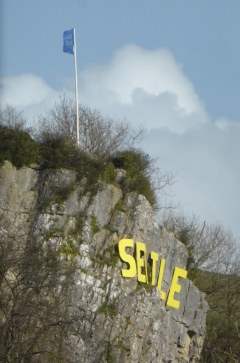 Settle Sign - on Castleberg from the Church after the Tour de Yorkshire 29 April 2016 -( actually the sign has been taken down now and is set up near Settle Railway Station )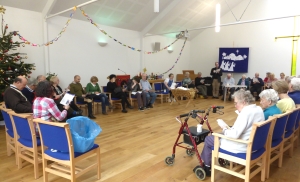 Book now or volunteer for the 2017 Settle Community Christmas Day Meal: See pics from last year
21 Oct: Games Evening 6.30pm
- Pie and Peas
St John's
Methodist
Church:
Every Tuesday: Morning Coffee 10am-12pm in the NEW church foyer.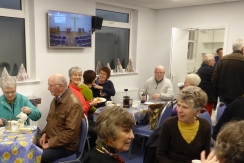 The 1st Tue of the month is a special charity coffee morning:
5 Sept: Coffee morning for Marine Conservation Society Awareness Campagin about Plastic in the Sea raised £100
SETTLE METHODIST CIRCUIT ANNUAL HYMN FESTIVAL
Fri 3 Nov 7.30pm: Bentham Methodist Church: Congregational Singing: Orton Male Voice Choir.
Set 4 Nov: 2pm: Rathmell Methodist Ch: Rev Robert Canham, Secretary of the Hymn Society of Great Britain and Ireland: musically illustrated talk on
"Hymns and the Reformation"
Sun 5 Nov: 6.30pm at St John's Methodist Church Settle: An Evening of Welsh Hymns
All proceeds to "All we can" (Methodist Relief amd Development Fund)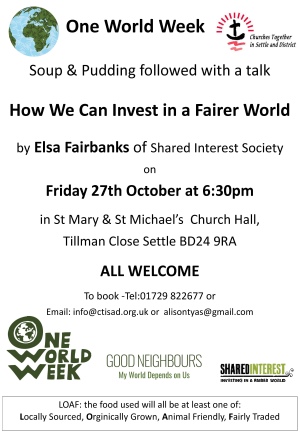 Sun 29 Oct: Anley Hall service 2.30pm. - on the last Sunday of each month.
Justice & Peace Group: Second Wed of month: - Friends Meeting House, Settle . 7.15pm 8 Nov: - Writing Amnesty and similar Greeting Cards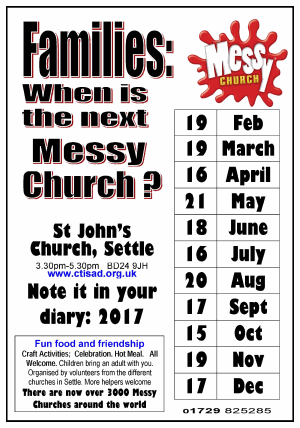 Wed 1st Nov All Saints Day service - in remembrance of those who have died. St John's Church, 7.30pm
Wed 8 Nov 7.30pm S John's - Safeguarding Training.