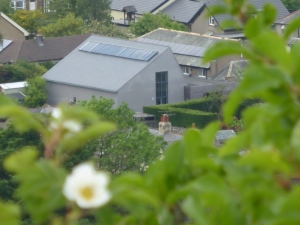 View of church from Castleberg on 4 June 2018:
Churches Together in Settle and District:
All are very welcome at either event
Have you a photo or painting to submit for the Exhibition to be held straight after Easter?
---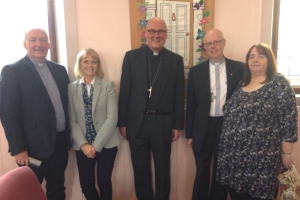 Above: Revd Roger Walton Chair of the Yorkshire West District of the Methodist Church and our two ministers of the Settle and Bentham Circuit and wives- 2 Sept 2018
For more on history of Settle Methodist Church see post on Settle Historic Churches Tour here on 8 March 2018
Click for April 2019 pictures of Settle Good Friday Passion Play and Sunday dawn Service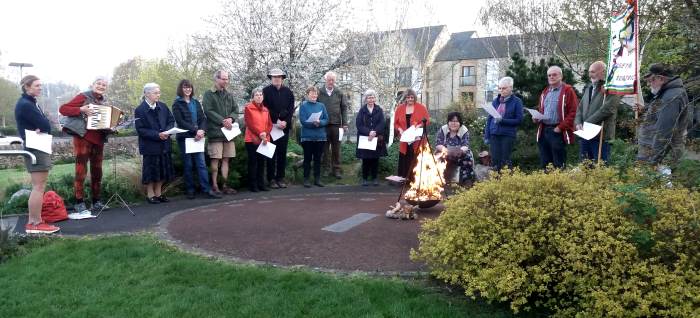 Every Tuesday: Morning Coffee 10am-12pm in the NEW church foyer.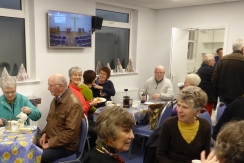 The 1st Tue of the month is a special charity coffee morning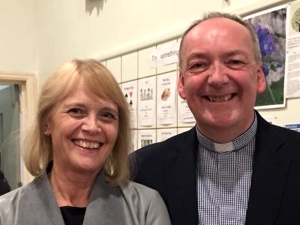 Revd Tim and Pam Broughton at the welcome service: Th 6 Sept- (See Also)
Wednesday 15th May 6.00 – 7.30 p.m. Christian Aid Week Coffee Evening at St. John's, organised by CTISAD. 6pm am start
Thu 16 May 6.30 p.m. Songs of Praise at Limestone View
Sat 18 May Christian Aid Week Big Brekkie: Please book. Places left at 8.30 and 12.30 - Chez Diggles - edithd@abtsound.co.uk or 01729 825285
Thursday 23rd May 7.30 p.m.
Nepal with Steve O'Brien
Thursday 30th May 7.00 p.m.
Men's Shed Bowling Night
June 12, 7.15 pm St John's: - Mike Berners-Lee, the author of 'How Bad are Bananas' had another book out in February with the title, "There is no Planet B: A Handbook for the make or break years". He has agreed to speak at this meeting. For more details about the book go to http://theresnoplanetb.net/
Wednesday 10th July 9.30 a.m
Church Outing to Ripon
Messy Church: Interested? 01729 825285.
Circuit Coach Trip to Epworth Old Rectory 2019 is the 350th
Anniversary of the birth of Mrs Susanna Wesley, mother of John & Charles. It is proposed to visit Epworth Old Rectory, the home of the Wesleys, on Thursday 1st August. The coach would pick up at
Bentham and Settle. details: christinecaddy.2727@gmail.com
Events with Churches Together:
Churches together Prayer Meeting Meeting:- 12pm first Monday of Month- Holy Ascension Church, Settle: To support the many activities in our area; 01729 822311