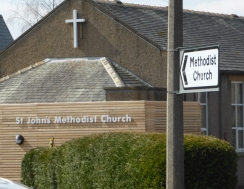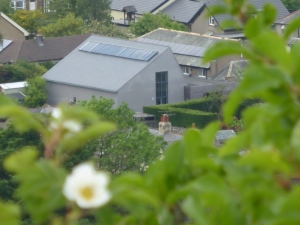 View of church from Castleberg on 4 June 2018: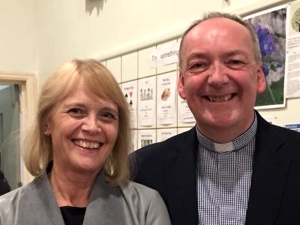 Revd Tim and Pam Broughton at the welcome service: Th 6 Sept 2018-
For more on history of Settle Methodist Church see post on Settle Historic Churches Tour here on 8 March 2018
Click for April 2019 pictures of Settle Good Friday Passion Play and Sunday dawn Service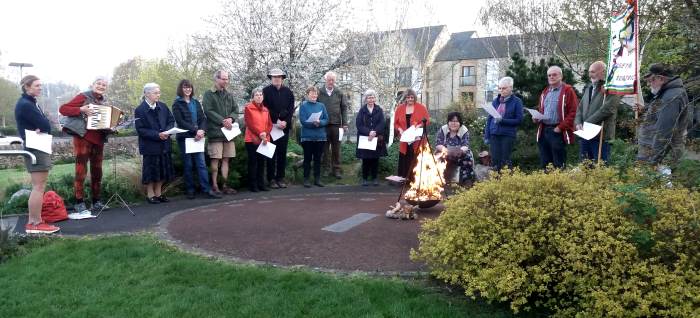 If you miss a Sunday morning and still want to join in with our worship then all of our services are now available online. You can
listen from any internet enabled device, by going to https://soundcloud.com/settlemethodist
You may have to copy and paste
https://soundcloud.com/settlemethodist
into your browser
.  Alternatively, using the Soundcloud app for your smartphone (free), services can then be downloaded and listened to when Offline
St John's
Methodist
Church:
Every Tuesday: Morning Coffee 10am-12pm in the NEW church foyer.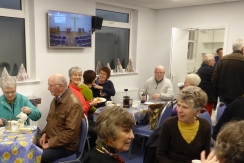 The 1st Tue of the month is a special charity coffee morning:
This Tuesday 3rd Sept: Side by Side is a service run by the Alzheimer's Society to link people living with dementia with volunteers so that they can keep doing the things they love and continue to play active roles in their communities. This helps them to lead fulfilling lives, and reduces loneliness and isolation.
Become a Side by Side Volunteer?
This week, please pray for
1. Side by Side -
2. All those who are living with any form of dementia, their families
and those who care for them and support them in any way.
3. Pioneer Projects, who run a weekly Creative Projects day at St.
John's for people living with dementia.
Sun 8 Sep 2019: Welcome to our Morning Service at 10.30am which will be led by led by Rev. Stephen Dawes)
ANNUAL CIRCUIT HYMN COMPETITION
Entry forms and information are available from the Church Stewards. Challenge: write a hymn, for any occasion, in which the words 'God so loved…that he gave' appear at least once. Entries, with entry forms, should be sent to Jane Mansergh by 14th October.
Tue 3 Sep: 7.30pm: Safer Space Training (Safeguarding - all church stewards and people with postitions of responsibility encouraged to come and all people in the church welcome for this training session)
Sat 28 Sep 7.30 p.m. Light Music Trio Concert
Sun 29 Sep 10.30 a.m. Harvest Festival, followed by lunch
Messy Church: Interested? 01729 825285.
Tuesday 17th Sep. Late afternoon: Settle Circuit: Men's Shed : Visit to Leighton Moss RSPB Reserve
--------------------------------------
Events with Churches Together:
Thu 19 Sep 6.30 p.m. Songs of Praise at Limestone View
Churches together Prayer Meeting Meeting:- 12pm first Monday of Month- Holy Ascension Church, Settle: To support the many activities in our area; 01729 822311