Welcome to St John's, Settle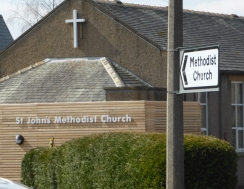 Our Church - on the route of the Flying Scotsman - Settle Carlilse Line Reopening Day: 31 Mar 2017 7.30pm St John's Church. Settle
Sat 20 May - Simeon Wood in Concert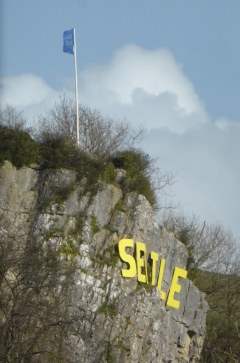 Settle Sign - on Castleberg from the Church after the Tour de Yorkshire 29 April 2016 -( actually the sign has been taken down now and is set up near Settle Railway Station )
HAPPY NEW YEAR
St John's
Methodist
Church:
Every Tuesday: Morning Coffee 10am-12pm in the NEW church foyer.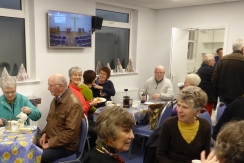 The 1st Tue of the month is a special charity coffee morning:
EVERY SUNDAY: 10.30am morning service.
Sun 4 Feb: Church Breakfast 9 (-9.30am) - But it's no use if everyone arrives at 9.27am :)
Sat 20 Jan 10am-12 noon Coffee morning toasted teacakes, refreshments
Week of Prayer for Christian Unity:
Thurs 18th: POSTPONED Service of Unity, 2.00pm at St Mary & St Michael Catholic Church, Settle
Thurs 18th Songs of Praise, 6.30pm at Limestone View (lounge)
Tuesday 23rdSimple meal, 11.30 – 2pm at Settle Parish, with proceeds to Christian Aid
Meeting for Worship, 12.15 – 12.45pm at Friends' Meeting House
Sun 21st Messy Church, 3.30 - 5.30pm at St John's Church Hall
Theme: Stairway to heaven
Sat 17 Feb 7pm Pudding and Games Night plenty of pudding, card and board games.