Welcome to St John's, Settle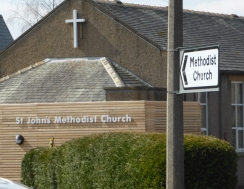 Our Church - on the route of the Flying Scotsman - Settle Carlilse Line Reopening Day: 31 Mar 2017 7.30pm St John's Church. Settle
Sat 20 May - Simeon Wood in Concert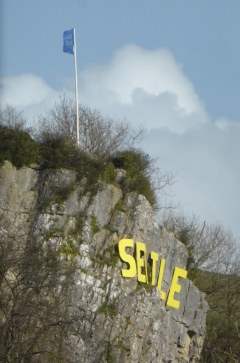 Settle Sign - on Castleberg from the Church after the Tour de Yorkshire 29 April 2016 -( actually the sign has been taken down now and is set up near Settle Railway Station )
Our church looks up to the hills.
Want to see what our church looks like from the hills? - View looking down from Settle Hells Race June 2017
Archives: We are seeking to make digital records of old photos, documents, memorabilia connected with the 122 years of the existence of our former church building
If you, or someone you know has items we can record and photograph please contact Philip or Web editor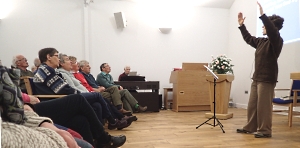 St John's
Methodist
Church:
Every Tuesday: Morning Coffee 10am-12pm in the NEW church foyer.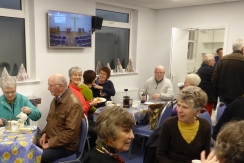 The 1st Tue of the month is a special charity coffee morning:
4 July: Coffee morning for Kwezana School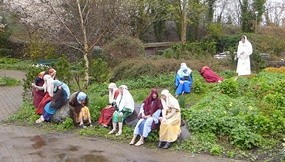 See pictures of this year's passion play here and more very Good Pictures on Settle Anglican Church Website here
The results of the Settle Methodist Circuit Hymn Competition :
COMING EVENTS:
20 July 6.30pm: Circuit World Church Summer Supper:- Followed by Talk on SAT7UK (Come to either of Both - Bentham Methodist) - SAT7 is a Christian TV Channel for the Middle East and Africa -
Sun 30 June: Anley Hall service 2.30pm. - on the last Sunday of each month.
Justice & Peace Group: Second Wed of month: - Friends Meeting House, Settle . 7.15pm
Next meeting 16 July.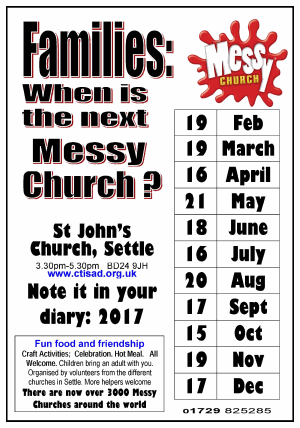 Fields full of buttercups
Fields full of buttercups
Tossing madly trees
Rivers of grasses
Flowing in the breeze
Dandelions joyous
Defiant yellow weeds
Scattering profusely
Clocks of hairy seeds
Mists of forget-me-nots
Seas of bluebells
Sharing the woodland
Where the wild garlic smells
White clouds racing
To a far distant shore
The cry of the curlew
Floating over the moor
Sounds and scenes to treasure
As I pass along my way
There's nowhere quite like Yorkshire
On a glorious spring time day
By June Aileen Burnett
Tony Burnett of St John's Methodist Church died recently. This lovely poem by his wife Jane who predeceased him was read at the thanksgiving service for his life on 19 June 2017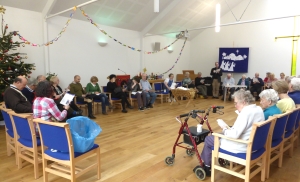 See pictures of
Settle Community Christmas Day Meal :