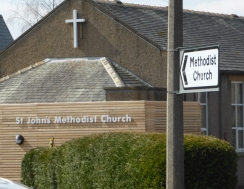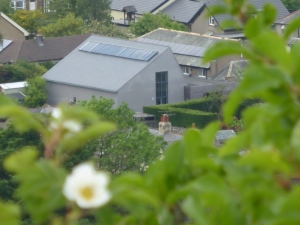 View of church from Castleberg on 4 June 2018: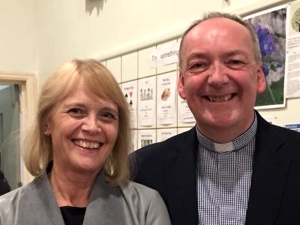 Revd Tim and Pam Broughton at the welcome service: Th 6 Sept 2018-
For more on history of Settle Methodist Church see post on Settle Historic Churches Tour here on 8 March 2018
Click for April 2019 pictures of Settle Good Friday Passion Play and Sunday dawn Service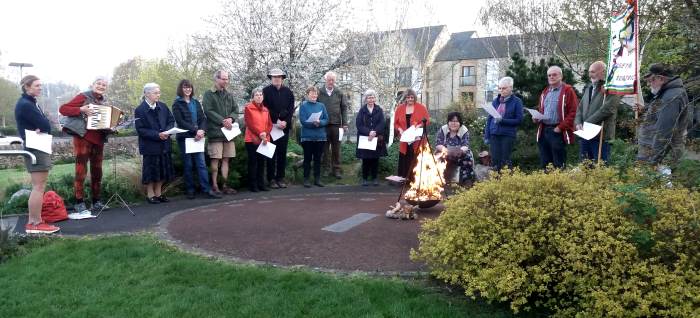 If you miss a Sunday morning and still want to join in with our worship then all of our services are now available online. You can
listen from any internet enabled device, by going to https://soundcloud.com/settlemethodist
You may have to copy and paste
https://soundcloud.com/settlemethodist
into your browser
.  Alternatively, using the Soundcloud app for your smartphone (free), services can then be downloaded and listened to when Offline
NEW : See St John's
Facebook Page- go to facebook and search for Settle Methodist Church
St John's
Methodist
Church:
Every Tuesday: Morning Coffee 10am-12pm in the NEW church foyer.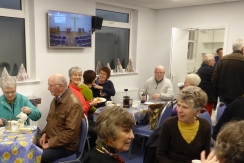 The 1st Tue of the month is a special charity coffee morning:
Tuesday 5 Nov: in aid of Rainforest Fund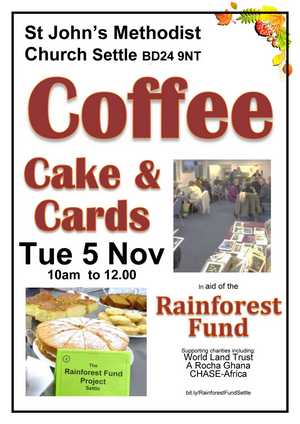 Sun 20 Oct 10.30 a.m. Morning Service led by Revd Tim Broughton - Holy Communion
Sun 20 Oct 6.30 p.m. Marriage and Relationships Discussion
Messy Church: Interested? 01729 825285.
--------------------------------------
Circuit Hymn Festival: 1,3,9 November
Friday 1st November 7.30 p.m. Circuit Hymn Festival at Settle

Sunday 3rd November 6.30 p.m. Circuit Hymn Festival at Bentham
Saturday 9th November 2.00 p.m. Circuit Hymn Festival at Rathmell
--------------------------------------
Events with Churches Together:
Thu 17 Oct 6.30 p.m. Songs of Praise at Limestone View
Churches Together Prayer Meeting Meeting:- 12pm first Monday of Month- Holy Ascension Church, Settle: To support the many activities in our area; 01729 822311
---------------------------------------
THURSDAY GROUP
The Thursday Group will not be meeting again until early December, when we plan to make some Christmas decorations.
More details to follow.
MARRIAGE AND RELATIONSHIPS
This Autumn and Spring the whole Methodist Church is engaging in talks relating to the 'Marriage and Relationships Report' which came to Conference this summer. Please come along to our interactive evenings of conversation and discussion at 6.30 p.m. on October 13th and 20th and November 17th when we will have a chance to explore marriage and relationships together from the perspective of scripture and contemporary culture.