WEEK OF PRAYER FOR CHRISTIAN UNITY: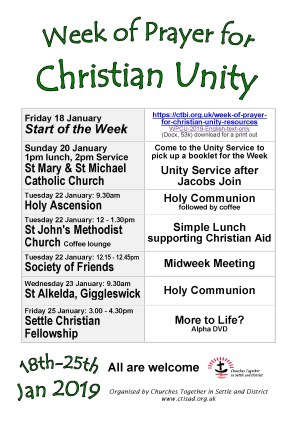 Download Week of Prayer for Christan Unity 18-25 Jan poster
as on right:
This Sunday 20 Jan: 1pm: Shared Lunch at Settle Catholic Church (Just opposite St John's). Joint Service at 2pm: Speaker: Revd Tim Broughton! Yes - our Methodist Minister - so there is a double reason to come. All welcome.
Tuesday: 12pm - 1.30pm: Simple Lunch at St Johns - Soup and bread. in Aid of Christain Aid. All welcome.
More joint services on the right.
this year we are tyring to put on an event at each of the Settle churches - so do try and attend at least one of them (as well as your own church events)
Hark the Herald Angels Sing
Methodists well represented at Churches together in Settle Carols singing on Tuesday before Christmas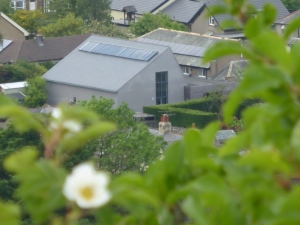 View from Castleberg on 4 June 2018: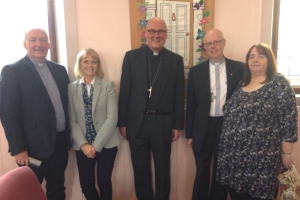 Above: Revd Roger Walton Chair of the Yorkshire West District of the Methodist Churches and our two new ministers of the Settle and Bentham Circuit and wives say "Hello" to all. Taken at the welcome service at Bentham on 2 Sept 2018
For more on history of Settle Methodist Church see post on Settle Historic Churches Tour here on 8 March 2018 (your web editor hosted the St John's section)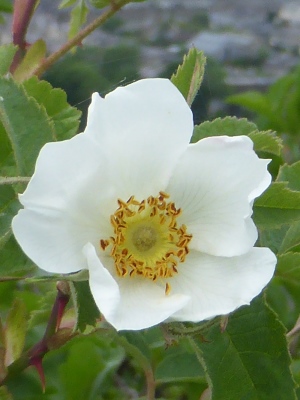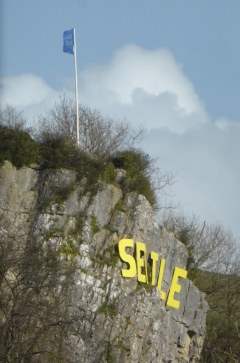 Settle Sign - on Castleberg from the Church after the Tour de Yorkshire 29 April 2016 -( the sign has been taken down now and is set up near Settle Railway Station )
We moved into our new worship building on Sat 6 Dec 2015.
Sat 20 May - Simeon Wood in Concert
Settle Carlilse Line Reopening Day: 31 Mar 2017 7.30pm St John's Church. Settle
Every Tuesday: Morning Coffee 10am-12pm in the NEW church foyer.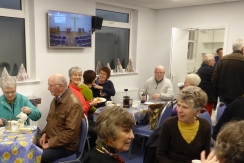 The 1st Tue of the month is a special charity coffee morning:
6 Nov: Tuesday Coffee Morning Charity: the Rainforest Fund - £115 was raised and sent to Cool Earth
Click for April 2018 pictures of Settle Good Friday Passion Play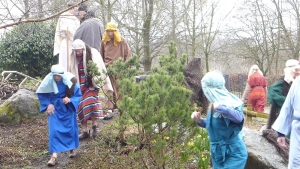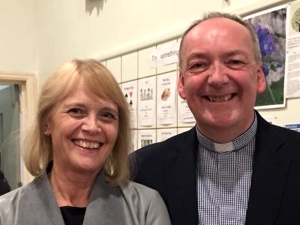 Revd Tim and Pam Broughton at the welcome service on Th 6 Sept- (See Craven Herald Report)
Prayer Meeting- Note new time at 12pm Mondays: To support the many on-going activities in our area; 01729 822311. First Mondays:12 pm Holy Ascension Church, Settle
16 Jan: Songs for the Soul - Ingleton Methodist Church 7.30pm. Lifts offered from Settle (This is usually the third Wed of the Month)