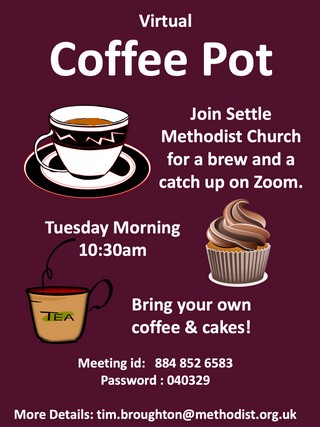 For the Lastest news See
St John's Methodist Church Facebook Page - and
Settle Methodist Circuit Website for lates news
Every Tuesday: 10.30am - Zoom coffee Morning - See brown poster on the right.
Sunday Morning Service on Facebook 10.30am (See recordings of past services on Youtube here)
Sunday afternoons 3pm - Physical Service at st John's.
Sun 23 and Sun 30 Aug: Led by Wendy Holt
Sept Services at 3pm - Preachers yet to be announced.
Physical Service (no congregational hymns) -We will be testing the system. We hope to resume physical Sunday morning services in October
Sunday Evening Zoom Service at Bentham 6pm - 23 Aug onwards. Details
Thursday Morning Zoom Bible Study - Circuit-Bentham - 10am
Note: Settle as a whole has a Community Response number to phone - 01729 825493 and website : settlevictoriahall.org.uk/communityresponse if you need help, or want to offer help, or have enquiries. Individual Villages (e.g. Langcliffe) also have their response teams that Settle will be able to tell you about.
Receive and enjoy the blessing below produced by members of our Sister Church in Ingleton - you will enjoy it. A blessing for North Craven and People Everywhere.