Events and Activities:-
Mon 4 Dec: We say farewell to Michael Cullingworth (Funeral 2pm) - seen below acting Pilate in Settle Passion play in 2015
Dementia Forward Christmas Tree, ready for Dementia Forward Christmas Coffee morning on 6 Dec
On Sun 3 Dec we Welcomed Rev Kerry Tankard who preached at our 8thanniversary.
St John's Social and other Events:
11 Dec 7.00 pm Soup-a-carol
24th Dec 6.30 pm Carol Service
We may also have a carol evening in a local hostelry but the date only gets fixed shortly before Christmas
Tue 12 and Tue 19 Dec: Churches Together Carol Singing in the morning in the Market Place - Please join us. 10am-11.30am
Wed 13 Dec Bible Book Club after Coffee Pot (at 12.0 noon) e will be looking at Isaiah 1-39. As usual, this will be led by Revd. Tim Broughton; background notes can be found on the hymn book cupboard.
----------------------------------------
Settle Hang-Out 7pm on Wednesday Evenings at St John's. : for people aged 11-17. Settle Youth Cafe is supported by local churches
Eco-Explorers: (for children aged 4-11 plus their families) Alternate Mondays - These will recommence in spring when there is daylight after 4pm.
Please tell anyone you know with children aged 4-11 that they will be very welcome. Contact
------------------------------------------
Some past activities
Churches Together first of the month walk: Fri 1 Dec 2023 Above Stainforth. We read prayers abouv COP28 and about Gaza/Palestine. See past walks:
1 Nov: Hellifield Flash, Station, & Long Preston Deeps &
1 Oct: Scaleber Foss and Attermire
See St John's Eco-group's visit to Malham Chapel to see their floor, their new community Garden of Hope and take part in their 9.30am morning service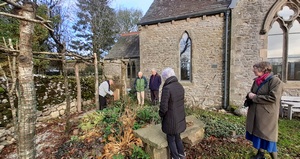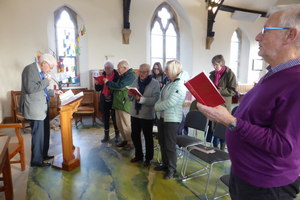 ------------------------------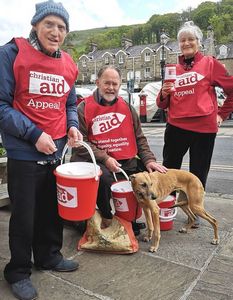 Churches Together collected £3000 for Christian Aid week 2023. Tues & Sat collection outside The Naked Man Cafe. Wed: coffee evening at St Johns. Final Sat: bacon butties lunch at Anglican Church & Afternoon tea at the Quakers.-----------------------------
Settle Eco-Explorers had an excellent two days at Lower Winskill Farm on 15 and 16 August.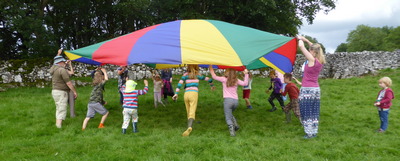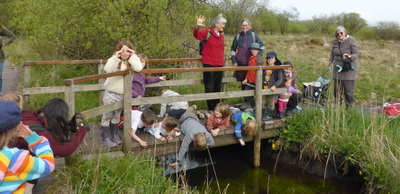 On 17 May (above) we went to Malham Tarn and saw l the Goldilocks Buttercup, Globe flowers and Marsh Marigolds
Below: Queen's Jubilee celebrations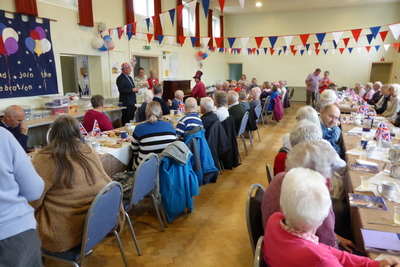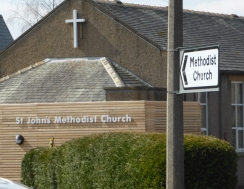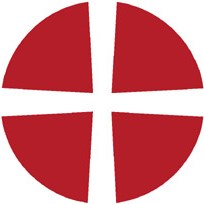 Sunday Services: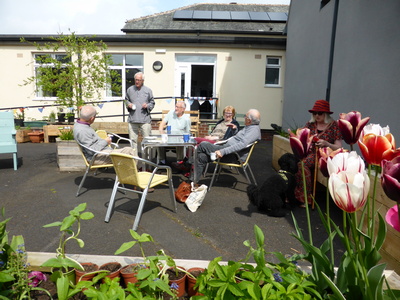 Above - come and sit in our "Eco-garden"
Coffee Pot - Coffee morning - now take place on WEDNESDAY mornings 10.30-12.
Could you help? Each week 2+ volunteers are needed: No 1 to serve in the kitchen and organise supplies; No 2 to serve. (No 3: bake an extra cake/No 4:welcome people for coffee.)
The 1st Wed of the month is in aid of a charity
Money raised at recent Coffee Pots for charity in 2023:
Dec & Feb: Dementia Forward: £495-15
7 June UK Med: £150
1 Feb: Bethany fund: £145
1 March: Fair Trade Foundation: ..........
8 March: St John's Eco-Garden
April: NSPCC:
May: Peer Talk
July 2023: Action for Children (Formerly NCH £183.
2 Aug: the Smile Train Charity, which supports care for children with cleft palates in over 70 countries: £139.
Sept: Settle Hangout Youth Club
Oct:Guide Dogs for the blind: £199.60 from coffee, £177.49 - Sale of goods & donations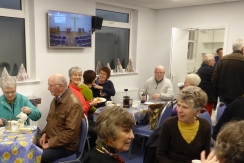 Coffee Mornings
See video of the favourite hymn "The Day thou gavest" sung at Friday 4 March 2pm: World Day of Prayer-