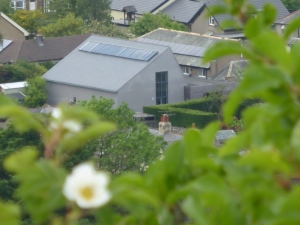 View of church from Castleberg on 4 June 2018:
Churches Together in Settle and District:
All are very welcome at either event
Have you a photo or painting to submit for the Exhibition to be held straight after Easter?
---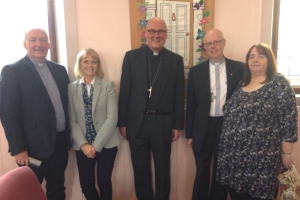 Above: Revd Roger Walton Chair of the Yorkshire West District of the Methodist Church and our two ministers of the Settle and Bentham Circuit and wives- 2 Sept 2018
For more on history of Settle Methodist Church see post on Settle Historic Churches Tour here on 8 March 2018
Click for April 2019 pictures of Settle Good Friday Passion Play and Sunday dawn Service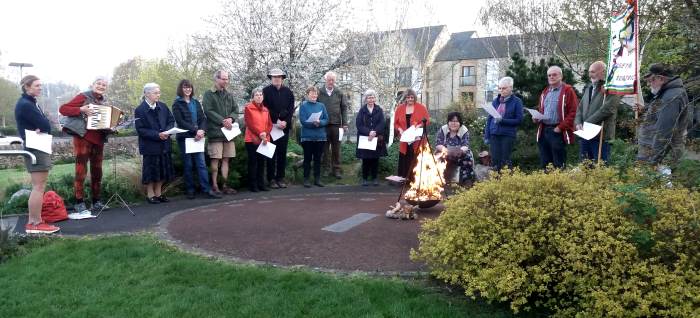 Every Tuesday: Morning Coffee 10am-12pm in the NEW church foyer.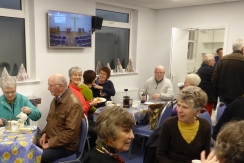 The 1st Tue of the month is a special charity coffee morning:
2 July: Messy Church/Bible Reading Fellowship
Events with Churches Together:
Thu 18 July 6.30 p.m. Songs of Praise at Limestone View
Churches together Prayer Meeting Meeting:- 12pm first Monday of Month- Holy Ascension Church, Settle: To support the many activities in our area; 01729 822311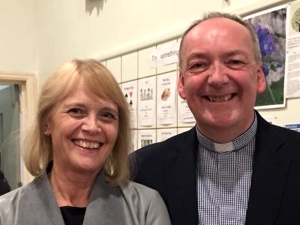 Revd Tim and Pam Broughton at the welcome service: Th 6 Sept- (See Also)
Thur 4 July: 7pm: Meeting at church for anyone who is interested in exploring and helping the church become more eco-friendly and active in creation care.
Wednesday 10th July 9.30 a.m
Church Outing to Ripon
Mon, Tues, Wed 29, 30, 31 July Eco Explorers family event, held at Lower Winskill Farm, BD24 9PZ. Leave at 9.30 from St John's Methodist Church to share transport, finish at 1pm after a picnic lunch. 3 half hour workshops in the field, exploring different eco themes, finishing with a gathering session with songs & reflections, and a provided lunch.
Donation is £1 per person each day, and places must be booked, either to sally@thewatersons.org Tel 01729 822311 or via the website link (full details there)
www.ctisad.org.uk
If you think you could help, please contact Sally.
Circuit Coach Trip to Epworth Old Rectory 2019 is the 350th
Anniversary of the birth of Mrs Susanna Wesley, mother of John & Charles. It is proposed to visit Epworth Old Rectory, the home of the Wesleys, on Thursday 1st August. The coach would pick up at
Bentham and Settle. details: christinecaddy.2727@gmail.com
Messy Church: Interested? 01729 825285.