View from Castleberg on 4 June 2018: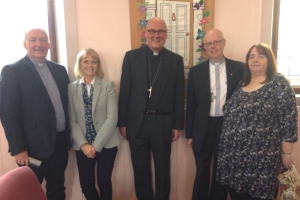 Above: Revd Roger Walton Chair of the Yorkshire West District of the Methodist Churches and our two new ministers of the Settle and Bentham Circuit and wives say "Hello" to all. Taken at the welcome service at Bentham on 2 Sept 2018
For more on history of Settle Methodist Church see post on Settle Historic Churches Tour here on 8 March 2018 (your web editor hosted the St John's section)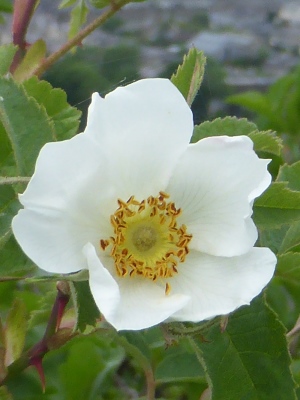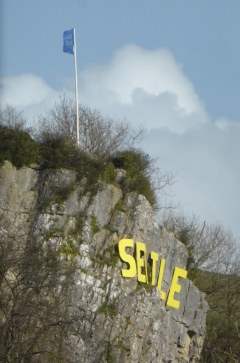 Settle Sign - on Castleberg from the Church after the Tour de Yorkshire 29 April 2016 -( the sign has been taken down now and is set up near Settle Railway Station )
We moved into our new worship building on Sat 6 Dec 2015.
Sat 20 May - Simeon Wood in Concert
Settle Carlilse Line Reopening Day: 31 Mar 2017 7.30pm St John's Church. Settle
Every Tuesday: Morning Coffee 10am-12pm in the NEW church foyer.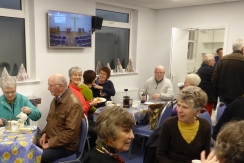 The 1st Tue of the month is a special charity coffee morning:
6 Nov: Tuesday Coffee Morning Charity: the Rainforest Fund
Click for April 2018 pictures of Settle Good Friday Passion Play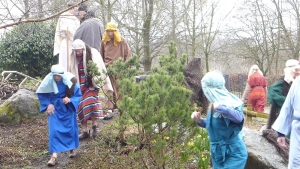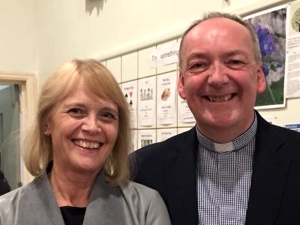 Revd Tim and Pam Broughton at the welcome service on Th 6 Sept- (See Craven Herald Report)
Download this weeks notices (21 Oct 2018)
Settle Circuit 19th Annual Hymn Writing Competition and Festival (Fri 2-Sun 4 Nov) topic "Thankfulness" (to established hymn tune or song tune) Closing date 24 Oct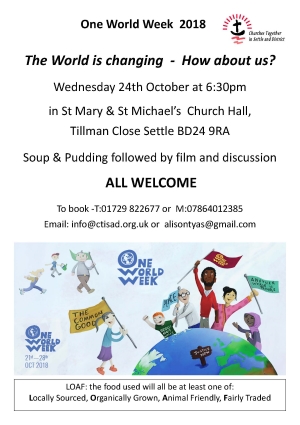 Wed 24 Oct: One World Week Meal and Film in Catholic Church Hall: 'Our World is Changing – What about us?
Messy Church: Note we are experimenting with new times for Messy Church. the next meeting will not be 21 Oct , but instead at 31 Oct 2pm-3.30pm and held at Holy Ascendion. It will be a light party. Then Wed 5 Dec at 3.30-5.30pm in Holy Ascension
PUMPKIN HEROES – 31st OCTOBER
Children between 5-11 years are invited to Hellifield Methodist Church for 'Pumpkin Heroes' with fun, games, crafts and puppets, on Wed. 31st October between 5.30-7pm. It's a free alternative to "trick or treat". Parents (and grandparents) are welcome. Contact Pauline on 07931 511652 with any queries or just come along!
Thur 1 November 7.30 p.m. Service for All Saints Day
Fri 2 Nov 7.30 pm Hymn Festival Sankey Evening at Bentham Methodist Church
Sat 3 Nov 2.00 pm A World of Hymns with Clive Potts at Westhouse Methodist Church
Sun 4 Nov 6.30 pm Hymn Festival: Hymns from Scotland at St John's
Saturday 17th November 7.00 p.m. Activities Evening
:
Sun 4 Nov: Monthly Church Breakfast at 9am All Welcome
Thurs 15 Nov Songs of Praise, 6.30pm: Limestone View (lounge)
Prayer Meeting- Note new time at 12pm Mondays: To support the many on-going activities in our area; 01729 822311. First Mondays:12 pm Holy Ascension Church, Settle
Sat 20 Oct: 7.30pm Jazz Concert
Wed 24 Oct: One World Week Meal and Film in Catholic Church Hall: 'Our World is Changing – What about us?'