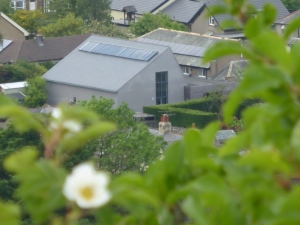 View of church from Castleberg on 4 June 2018: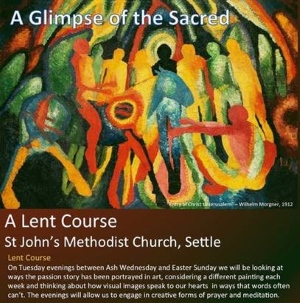 Churches Together in Settle and District: Lent Course: TUESDAYS March 12, 19, 26; April 2, 9, 16.
EVENINGS: 7.30 – 9.00pm
Venue St John's Methodist Church,
Church St, Settle. BD24 9JH
DAYTIME: 2.30pm start
Venue: Limestone View:
'Daring to see God now' - 2019 York Lent Course - written by Nick Baines- beginning March 12
All are very welcome at either event
Have you a photo or painting to submit for the Exhibition to be held straight after Easter?
---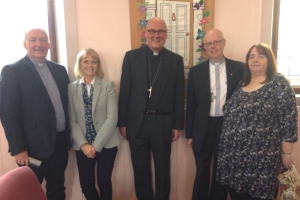 Above: Revd Roger Walton Chair of the Yorkshire West District of the Methodist Church and our two ministers of the Settle and Bentham Circuit and wives- 2 Sept 2018
For more on history of Settle Methodist Church see post on Settle Historic Churches Tour here on 8 March 2018
Every Tuesday: Morning Coffee 10am-12pm in the NEW church foyer.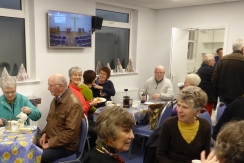 The 1st Tue of the month is a special charity coffee morning: 2 Apr: PeerTalk
Click for April 2018 pictures of Settle Good Friday Passion Play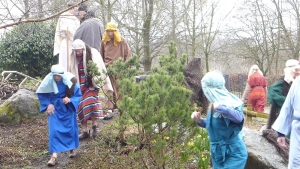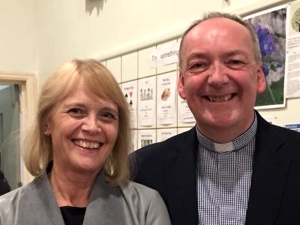 Revd Tim and Pam Broughton at the welcome service: Th 6 Sept- (See Also)
Dates at St John's:
Settle Passion Play - Interested in taking part? ? Contact Michael Cullingworth 01729 823978. Next practice: Thu 14 March 7.30pm at St John's This will be a complete run through. This year's actor playing Jesus will be there, but other cast members are needed to take the place of those stepping down from last year.
Messy Church: Interested? 01729 825285.
Wed 13 March: Church Council
Sun 17 March 10.30am Morning Service led by Maurice Walters
6.30 p.m. Bible Reading
Psalms 120-134 (Songs of Ascents)

Mon 18 March 7.30 pm: Poetry & puddings
Tues 19 Mar 10-12: Coffee Pot
Tue 19: Afternoon and Evening Lent Meetings - See left hand column
Wed 20 March 7.00 p.m. Men's Shed: Tim's Curry and Quiz Night at St John's
Sat 23 Mar 7.00 p.m.
Big Sing at Ingleton Methodist Church
Sun 31 March 12: Church Shared Lunch
Events with Churches Together:
Wed 20 March: CTISAD Planning Meeting
Thurs 21 Mar Songs of Praise, 6.30pm at Limestone View
Churches together Prayer Meeting Meeting:- 12pm first Monday of Month- Holy Ascension Church, Settle: To support the many activities in our area; 01729 822311