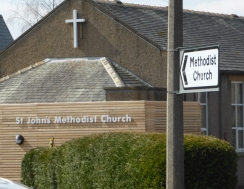 View from Castleberg on 4 June 2018: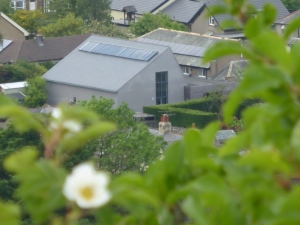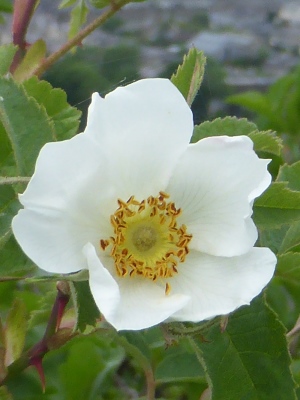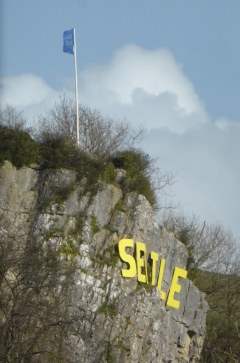 Settle Sign - on Castleberg from the Church after the Tour de Yorkshire 29 April 2016 -( the sign has been taken down now and is set up near Settle Railway Station )
Click for April 2018 pictures of Settle Good Friday Passion Play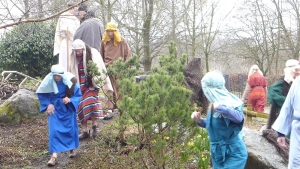 St John's
Methodist
Church:
Every Tuesday: Morning Coffee 10am-12pm in the NEW church foyer.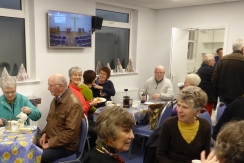 The 1st Tue of the month is a special charity coffee morning:
Sat 20 May - Simeon Wood in Concert
Settle Carlilse Line Reopening Day: 31 Mar 2017 7.30pm St John's Church. Settle
You are warmly invited to join us at any of the following events
Tue 17th July 10.00 a.m.–12 noon Coffee Pot
Tue 10th July 2.30 p.m. Bible Study at Limestone View. Please meet in the Atrium, by the café

Sun 15 July 10.30 a.m. Morning Service led by Jane Mansergh
Sun 15 July 6.30 p.m. Quiet Service of Holy Communion led by Revd. Stephen Normanton
Thurs 19 July Songs of Praise, 6.30pm: Limestone View (lounge)
Sun 22 July 6.30 p.m. Farewell to Revd. Bryan Yardy at Bentham
Thur 26 July 7.00 p.m. Farewell to Revd. Stephen Normanton at St. John's
Sun 29 July 12.00 noon Church Lunch
Thur 6 Sept 7.00 p.m. Welcome to Revd. Tim Broughton at St. John's
Prayer Meeting: To support the many on-going activities in our area; 01729 822311. First Mondays: 7.30 pm Holy Ascension Church, Settle
Messy Church: is having a break over summer.
Next Justice and Peace Meeting on 11 July at Settle Friends Meeting House has been postponed until a future occasion