m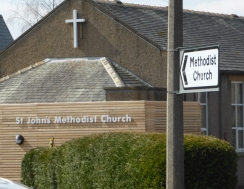 New street sign!!!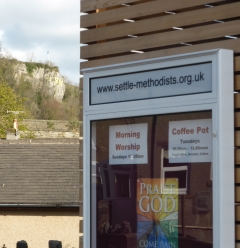 New notice board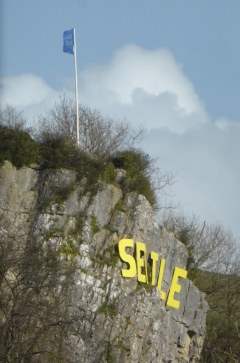 Settle Sign - on Castleberg from the Church after the Tour de Yorkshire 29 April 2016 -( actually the sign has been taken down now and is set up near Settle Railway Station )
Archives: We are seeking to make digital records of old photos, documents, memorabilia connected with the 122 years of the existence of our former church building
If you, or someone you know has items we can record and photograph please contact Philip or Web editor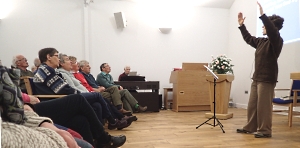 St John's
Methodist
Church:
Every Tuesday: Morning Coffee 10am-12pm in the NEW church foyer.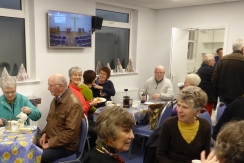 The 1st Tue of the month is a special charity coffee morning:First Tue in Feb: for Bibie Reading Fellowship/Messy Church
Past money raised this year:
Jan: Gt Ormond St £140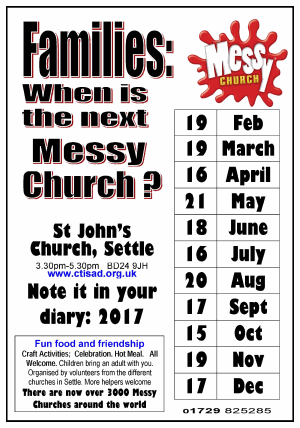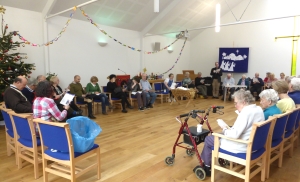 See pictures of
Settle Community Christmas Day Meal :
COMING EVENTS:

Sun 16 Apr: Messy Church for families: 3.30pm St John's Church Hall
26 Mar, 30, Apr: Anley Hall service 2.30pm. -on the last Sunday of each month.
Justice & Peace Group: Second Wed of month: - Friends Meeting House, Settle . 7.15pm No meeting in March or April. Next meeting May.
Thurs 20 Apr: Songs of Praise, 6.30pm at Limestone View
The results of the Settle Methodist Circuit Hymn Competition :
Churches Together Lent Series:
St Mary & St Michael Catholic Church. 29th March: Jane Mansergh, Maurice walters and Stephen Normanton

Each leader will talk about their church in relation to the characteristics of the main thread of its spirituality. Each church will be responsible for refreshments on that day and should remember tea, coffee, milk and biscuits please.
- Soup Lunch - Tue 4 Apr 12.30
Followed at 2pm by
Margaret Calvert Sharing her experience in Uganda with CRMI's medical mission 2017 Juliet Burd - Director of CRMI Children of - donations to house building project for Shamirah and her Mother and siblings.
Knitted Bible Exhibition
Bentham: 28 Mar–2 Apr
Ingleton: 5–8 Apr

St John's, Settle:
Friday 28 April
10.am–12. noon; 1.pm – 3.pm.
Sat 29 Apr 10.am–3.pm
Bacon rolls etc. available at lunch time
Sunday 30 Apr: 1.pm–3.pm Tea/coffee etc. available
Mon 1 May: 10.am–3.pm
Bacon rolls etc available at lunch time.
Tue 2 May: 10.am–12.noon
Tea/coffee, scones and cakes available at regular Tuesday Morning Coffee Pot.
------------------------------
Sat 20 May - Simeon Wood in Concert 7.30pm St John's Church. Settle
Simeon Wood is a gifted musician who plays a variety of woodwind instruments, including flute, bass flute, panpipes, Celtic whistle and didgeridoo. He performs a varied programme of classical, jazz, Celtic and folk music, interspersed with stories and anecdotes through which he shares the Christian faith which is a fundamental part of his life. Simeon has performed at Spring Harvest, ECG, New Wine and Greenbelt Festivals, as well as on board cruise ships.
Tickets £8 or £12 for 2, available from Wendy Holt or on the door.