Churches & Services
Download printable leaflet listing Times of Services
Settle
| | |
| --- | --- |
| Links to this website | Link to church websites |
Anglican Settle (achurchnearyou.com/church/939/)
Catholic -Settle (www.ssmaryandmichael.co.uk)
Christian Fellowship -Settle (www.settlechristianfellowship.com )
Friends - Settle (www.settlequakers.org.uk)
Methodist - Settle (www.settle-methodists.org.uk)
and District:-

Methodist - Rathmell
Methodist - Long Preston

Anglican Giggleswick village
(achurchnearyou.com/church/6880/)
Anglican Giggleswick School Chapel
Anglican Langcliffe (www.achurchnearyou.com/
benefice.php?B=46/183)
Anglican Long Preston
www.longprestonparishchurch.
blogspot.co.uk
Anglican Rathmell
(achurchnearyou.com/church/6918/)
Anglican Stainforth (www.achurchnearyou.
com/benefice.php?B=46/183)
Other:-
NISCU (Northern Inter-School Christian Union)
Townhead
Abbeyfield Retirement Home
Limestone View Retirement Home

Messy Church 3.30pm 3rd Sun of month

Tuesday Coffee Mornings (10am-12pm)

1. St John's Methodist Church

Download CTISAD's new and updated:- Ponder as you Wander leaflet (A walk round Settle)The CTISAD Barn Dance in Spring 2018 raised £160 which has been sent to the Red Cross for use at the Bradford Refugee Project.
Home Page: Welcome

Last updated: 12 Aug 2019
Presenting 50 year certificate at Christian Aid Coffee Evening May 2017- See report in Craven Herald
Churches Together in Settle and District 2016 AGM Minutes here.
Churches Together in Settle and District 2015 AGM Minutes here.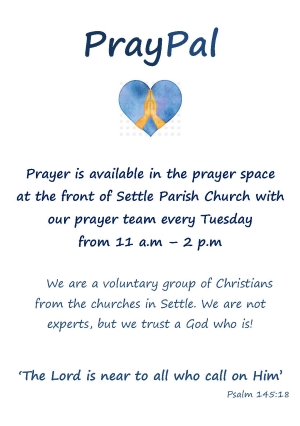 EVENTS
Prayer Meeting: To support the many on-going activities in our area; 01729 822311. First Mondays: 12.30pm midday Holy Ascension Church, Settle
Thu 15 Aug Songs of Praise, 6.30pm in Limestone View Lounge
Wed Thu Fri - 28,29,30 Aug Eco Explorers family event, held at Lower Winskill Farm, BD24 9PZ. Leave at 9.30 from St John's Methodist Church to share transport, finish at 1pm after a picnic lunch. 3 half hour workshops in the field, exploring different eco themes, finishing with a gathering session with songs & reflections, and a provided lunch.
Donation is £1 per person each day, and places must be booked, either to sally@thewatersons.org Tel 0775 3618381 or via the website link (full details there)
www.ctisad.org.uk
If you think you could help, please contact Sally.
this activity will be repeated/extended on
Mon, Tues, Wed 29, 30, 31 Aug

Please pray for this new venture for our local families.
THANKS TO ALL WHO HELPED RAISE FUNDS FOR CHRISTIAN AID The final Grand Total for our area is
£3309.07
A magnificent result!