---------------------------------------------------------------------------
What are churches nationally and locally around Settle doing about climate change? Find out by Downloading the paper that Judith Allinson wrote in Feb 2020 on this topic .. But shouldn't we be doing a lot more? .
The UN Secretary General, Antonio Guterres says the fight against climate change is far more important that the pandemic and yet global fossil fuel companies are still subsidised with 300bn pound each year. Guterres said - "I call on everyone - from government, civil society and business leaders to individual citizens - to heed these facts and take urgent action to halt the worst effects of climate change." (See pictures at end pf this page)
-------------------------------------------------------------------------------------------------
A good video of people singing: The Lord Bless You - National video just released 3 May 2020: https://m.youtube.com/watch?v=PUtll3mNj5U
See videos of Churches together Songs of Praise 8 August 2015 at Holy Ascension
One Church One Faith One Lord
How great though art


Lift High the Cross
Contact info@ctisad.org.uk with specific questions. As Bishop Nick says the worship of the church continues. It is being done differently. Through the prayers of clergy and laity, through prayer in homes and families and social media we still meet, pray, care and worship.
Note: Settle as a whole has a Community Response
01729 825493 --- communityresponse@settlevictoriahall --- settlevictoriahall.org.uk/communityresponse
AGE UK - tel 01729 823 066 info@ageuknorthcraven.org has taken over much of the worrk of Settle Community Response - but the latter, and the village response teams are still there should the situation get worse.
Contact these if you need help (groceries delivering, advice etc), or are able to help, or have enquiries.
Ask Settle about Individual Village Response Teams (e.g. Langcliffe, Gargrave, Horton.)
---------------------------------------------------------------------------
We offer prayers for all who are caused distress in the current situation: whether due to not being able to visit relatives in palliative care, or who are seeing their jobs and incomes vanish, or have extra work and responsiblilites
and give thanks for silver linings.
St. Mary and St. Michael Catholic Church, Settle
www.ssmaryandmichael.co.uk
www.facebook.com/St-Mary-St-Michael-Catholic-Church-
Society of Friends (Quakers), Settle
www.settlequakers.org.uk
Settle Christian Fellowship
www.settlechristianfellowship.com
St. John's Methodist Church, Settle
www.settle-methodists.org.uk
www.facebook.com/SettleMethodist
Rathmell (R) and Hellifield (H) Methodist Churches
www.settlemethodistcircuit.org.uk/rathmell(R)
www.settlemethodistcircuit.org.uk/hellifield (H)
www.facebook.com/HellifieldMethodist (H)
Open on Sundays 2-3pm for personal prayer (H)
Langcliffe (L), Stainforth(S) and Horton in Ribblesdale (H) Anglican Churches
www.achurchnearyou.com/church/6902 (L)
www.achurchnearyou.com/church/6889 (H)
Long Preston St Mary's Anglican Church
Church open each day
www.achurchnearyou.com/church/6907
Settle Parish Church (S), St. Alkelda (G), Giggleswick, Holy Trinity (R), Rathmell
www.achurchnearyou.com/church/939 (S)
https://www.facebook.com/Settle-Parish-Church-Holy-Ascension (S)
www.achurchnearyou.com/church/6880 (G)
www.achurchnearyou.com/church/6918 (R)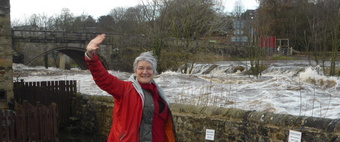 Ribble Flooding on 9 Feb 2020

Then it flooded a week later on 16th.
Then it made the national news on the evening of 21st Feb, when it flooded the road at Horton.. Next picture of Watershed Mill car park flooded from Settle Chat late on 21 Feb:-