Churches & Services
Download printable leaflet listing Times of Services
Settle
| | |
| --- | --- |
| Links to this website | Link to church websites |
Anglican Settle (achurchnearyou.com/church/939/)
Catholic -Settle (www.ssmaryandmichael.co.uk)
Christian Fellowship -Settle (www.settlechristianfellowship.com )
Friends - Settle (www.settlequakers.org.uk)
Methodist - Settle (www.settle-methodists.org.uk)
and District:-

Methodist - Rathmell
Methodist - Long Preston

Anglican Giggleswick village
(achurchnearyou.com/church/6880/)
Anglican Giggleswick School Chapel
Anglican Langcliffe (www.achurchnearyou.com/
benefice.php?B=46/183)
Anglican Long Preston
www.longprestonparishchurch.
blogspot.co.uk
Anglican Rathmell
(achurchnearyou.com/church/6918/)
Anglican Stainforth (www.achurchnearyou.
com/benefice.php?B=46/183)
Other:-
NISCU (Northern Inter-School Christian Union)
Anley Hall Nursing Home, Townhead
Abbeyfield Retirement Home
Limestone View Retirement Home

Messy Church 3.30pm 3rd Sun of month

Tuesday Coffee Mornings (10am-12pm)

1. St John's Methodist Church

Download CTISAD's new and updated:- Ponder as you Wander leaflet (A walk round Settle)The CTISAD Barn Dance in Spring 2018 raised £160 which has been sent to the Red Cross for use at the Bradford Refugee Project.
EVENTS
Prayer Meeting: To support the many on-going activities in our area; 01729 822311. First Mondays: 12.30pm midday Holy Ascension Church, Settle
12-18 May: Christian Aid Week
Wed 15 May Christian Aid Week Coffee Evening at St. John's, organised by CTISAD. 6.00 – 7.30pm - raised
Tickets      £66
Plants       £65.50
Bricabrac  £73.35
Cakes     £101.70
The overall total is £306.55  

Thanks to everyone who helped in any way.
Sat 18 May Christian Aid Week Big Brekkie: Please book. Places left at 8.30 and 12.30 - Chez Diggles - on Stackhouse Lane edithd@abtsound.co.uk or 01729 825285
June 12, 7.15 pm St John's: - Mike Berners-Lee, the author of 'How Bad are Bananas' had another book out in February with the title, "There is no Planet B: A Handbook for the make or break years". He has agreed to speak at this meeting. For more details about the book go to http://theresnoplanetb.net/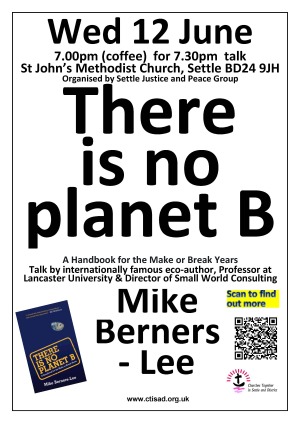 Thu 20 June 6.30 p.m. Songs of Praise at Limestone View
Next Churches Together Planning Meeting: 26 June
Also 26 June:-Planning Meeting to plan/host a future event in Settle for a group of refugees to come and enjoy a weekend with us in and around Settle. Anyone interested please contact Pam