All Church public events and Churches Together events -cancelled.
Contact info@ctisad.org.uk with specific questions.
Even those church buildings that are normally open hae been closed.
All church buildings are to close for public worship and private prayer.  There are no exceptions and no ambiguity. 
but as Bishop Nick says,
t
he 
worship
 of the Church continues. It is being done differently. Through the prayers of clergy and laity, through prayer in homes and families and social media we still meet, pray, care and worship.
Note: Settle as a whole has a Community Response
01729 825493 --- communityresponse@settlevictoriahall --- settlevictoriahall.org.uk/communityresponse
Contact these if you need help (groceries delivering, advice etc), or are able to help, or have enquiries.
Ask Settle about Individual Village Repsonse Teams (e.g. Langcliffe, Gargrave)
---------------------------------------------------------------------------
We offer prayers for all who are caused distress in the current situation: whether due to not being able to visit relatives in palliative care, or who are seeing their jobs and incomes vanish, or have extra work and responsiblilites
and give thanks for silver linings.
St. Mary and St. Michael Catholic Church, Settle
www.ssmaryandmichael.co.uk
www.facebook.com/St-Mary-St-Michael-Catholic-Church-
Society of Friends (Quakers), Settle
www.settlequakers.org.uk
Settle Christian Fellowship
www.settlechristianfellowship.com
St. John's Methodist Church, Settle
www.settle-methodists.org.uk
www.facebook.com/SettleMethodist
Rathmell (R) and Hellifield (H) Methodist Churches
www.settlemethodistcircuit.org.uk/rathmell(R)
www.settlemethodistcircuit.org.uk/hellifield (H)
www.facebook.com/HellifieldMethodist (H)
Open on Sundays 2-3pm for personal prayer (H)
Langcliffe (L), Stainforth(S) and Horton in Ribblesdale (H) Anglican Churches
www.achurchnearyou.com/church/6902 (L)
www.achurchnearyou.com/church/6889 (H)
Long Preston St Mary's Anglican Church
Church open each day
www.achurchnearyou.com/church/6907
Settle Parish Church (S), St. Alkelda (G), Giggleswick, Holy Trinity (R), Rathmell
www.achurchnearyou.com/church/939 (S)
https://www.facebook.com/Settle-Parish-Church-Holy-Ascension (S)
www.achurchnearyou.com/church/6880 (G)
www.achurchnearyou.com/church/6918 (R)
---------------------------------------------------------------------------
What are churches nationally and locally around Settle doing about climate change? Find out by Downloading the paper that Judith Allinson wrote in Feb 2020 on this topic .. But shouldn't we be doing a lot more? .
The UN Secretary Genreal, Antonio Guterres says the fight against climate change is far more important that hte pademic and yet global fossil fuel companies are still subsidised with 300bn pound each year. Guterres said - "I call on everyone - from government, civil society and business leaders to individual citizens - to heed these facts and take urgent action to halt the worst effects of climate change." (See pictures at end pf this page)
I leave up the times of our normal church services and events .. but it may be quite a long while till we gt back to these events. It includes contact details for the individual chruches. Do feel free to contact the relevant church leaders for more information
Churches & Services
Download printable leaflet listing Times of Services
Settle
| | |
| --- | --- |
| Links to this website | Link to church websites |
Anglican Settle (achurchnearyou.com/church/939/)
Catholic -Settle (www.ssmaryandmichael.co.uk)
Christian Fellowship -Settle (www.settlechristianfellowship.com )
Friends - Settle (www.settlequakers.org.uk)
Methodist - Settle (www.settle-methodists.org.uk)
and District:-

Methodist - Rathmell
Methodist - Long Preston

Anglican Giggleswick village
(achurchnearyou.com/church/6880/)
Anglican Giggleswick School Chapel
Anglican Langcliffe (www.achurchnearyou.com/
benefice.php?B=46/183)
Anglican Long Preston
www.longprestonparishchurch.
blogspot.co.uk
Anglican Rathmell
(achurchnearyou.com/church/6918/)
Anglican Stainforth (www.achurchnearyou.
com/benefice.php?B=46/183)
Other:-
NISCU (Northern Inter-School Christian Union)
Townhead
Abbeyfield Retirement Home
Limestone View Retirement Home
Tuesday Coffee Mornings (10am-12pm)

1. St John's Methodist Church
2. Holy Ascension: may be halted due ot coronavirus

Messy Church/EcoExplorers: 3.pm This is now held once a quarter See pics below from November meeting. Next meeting 17 May 2020 at Malham Tarn.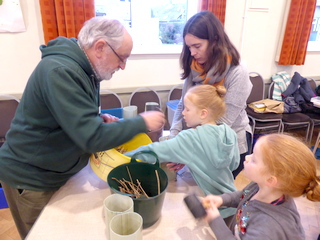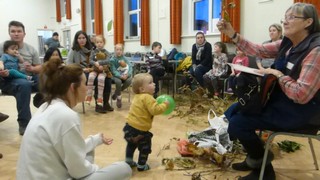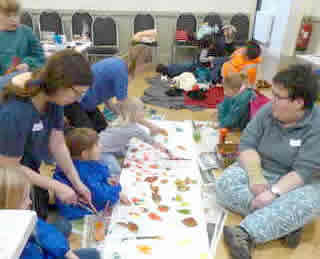 ----------------------------------------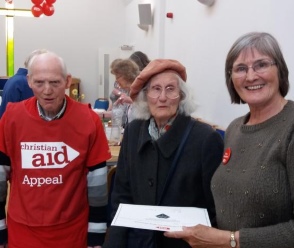 Presenting 50 year certificate at Christian Aid Coffee Evening May 2017- See report in Craven Herald
This year 2019 The final Grand Total for our area is £3309.07
Churches Together in Settle and District AGM Minutes (and reports):
Home Page: Welcome

Last updated: 23 Mar 2020
Ordinary Service Times & church details (web)
---------------------------------------
Settle Passion Play 2020 (Good Friday morning: 10 April).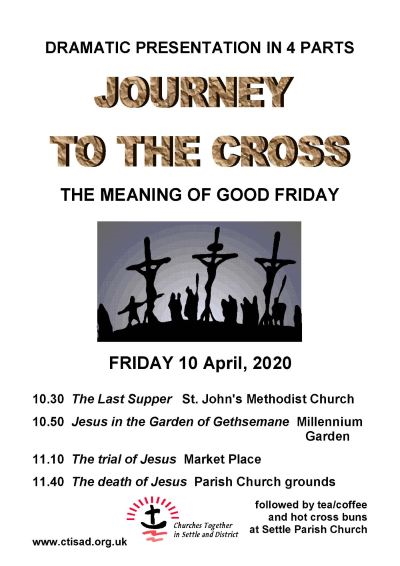 Date for your diary: Our annual Barn Dance has been booked for Friday 29th May, 7 – 10.30pm at St Mary & St Michael Parish Hall, Tilman Close, Settle This year we have The Batty Moss Ceilidh Band playing for us [Kevin McSherry's band].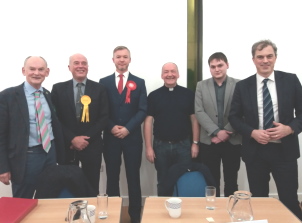 Hustings organised by Churches Together were held at St John's on November 27 2019
See a video of the candidates at an Eco Hustings of the same people held on 16 November held at the Victoria Hall
Easy Carbon footprint measures at your fingertips & climate change in Settle.
(Sheet prepared by JA)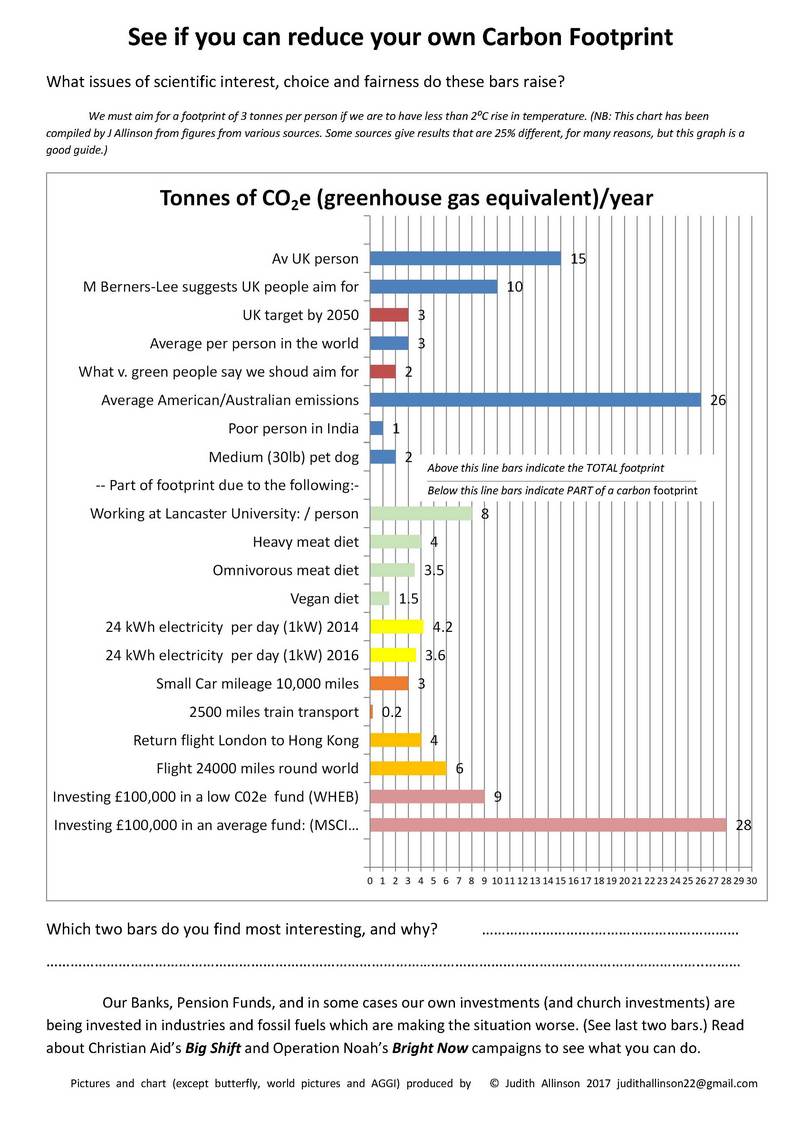 Prayer Meeting: To support the many on-going activities in our area; 01729 822311. First Mondays: 12.30pm midday Holy Ascension Church, Settle

Download CTISAD's new and updated:- Ponder as you Wander leaflet (A walk round Settle)The CTISAD Barn Dance in Spring 2018 raised £160 which has been sent to the Red Cross for use at the Bradford Refugee Project.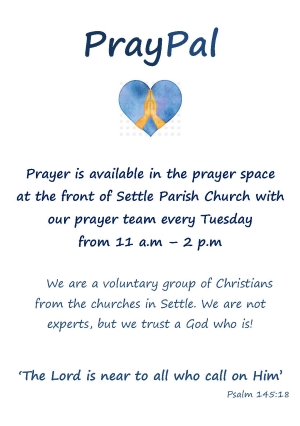 EVENTS
-----------------
CTISAD Lent Talks:
Wed nights: St John's Meth Ch Based on a film called "The Way" However Note the discussion this week Wed 18th will be at Holy Ascension chruch at 7.15 pm for 7.30pm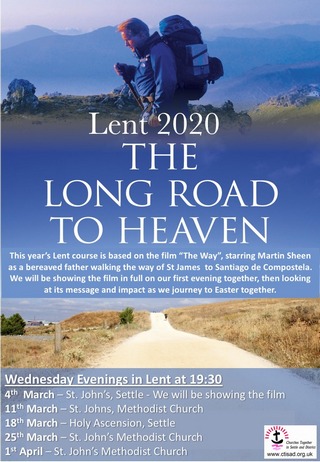 DAYTIME LENT COURSE
I think this has been cancelled from 24 March, at least for people who live outside Limestone View
Based on 2020 York Course
'Superstar' written by
David Wilbourne
LIMESTONE VIEW (LOUNGE)
Alternate Tuesdays 2.30 - 3.30 p.m.
(starting on Shrove Tuesday)
25th Feb. Who is Jesus?
10th March Miracles
24th March The Church
7th April Cross Purposes
(Crucifixion)
21st April The Psalms
All Welcome
-------------------------------------------
Settle Time Bank have organised a tutorial on how to use Settle Time Bank for members of Settle Justice and Peace Group on Thur 9th April 2-4pm to be led by Sarah Wiltshire.
Other members of Settle churches are welcome at this. Afterwards it is hoped to encourage members of churches to get more involeved.
ANY ONE in Settle can already join the Timebank - Simply call in at Settle Hub (Commercial Courtyard on the way to Ruchees) on a Tuesday day or Friday afternoon.
-------------------------------
Fri 1 May Settle & Horton churches are on the route of the Tour de Yorkshire
Christian Aid Week, 10-16 May Our usual arrangements and events will be planned. We will run the Coffee Evening 6-7.30pm, as last year again. John & Edith Diggles might hold their Big Breakfast in a larger venue.

Our annual Churches Together Barn Dance has been booked for
Friday 29th May, 7 – 10.30pm
at St Mary & St Michael Parish Hall, Tilman Close, Settle
This year we have The Batty Moss Ceilidh Band playing for us [Kevin McSherry's band].
Settle Justice and Peace Website.
Future meetings: May 13th – James Annan and Julia Hargreaves – Climate Change and Intergenerational Justice
June 10th – Jai Jagat – Jai Jagat is a wake-up call to respond to the deepening economic, social and environmental crisis. THere is a global peace march taking place and we will have a talk to hear about it.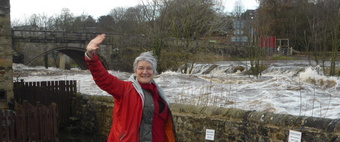 Ribble Flooding on 9 Feb 2020

Then it flooded a week later on 16th.
Then it made the national news on the evening of 21st Feb, when it flooded the road at Horton.. Next picture of Watershed Mill car park flooded from Settle Chat late on 21 Feb:-