The World Day of Prayer (prepared by the Women of Slovenia) was held at Holy Ascension on 1 March. A £141.60 collection will be sent to WDP. 
Next year, the Quakers will be hosting the service at the Friends Meeting House
EVENTS
Settle Passion play for Good Friady: Major acting parts are filled but minor parts and crowd scene people still welcome:- contact Michael Cullingworth (producer) 01729 823978.
See Lent meetings Tuesdays:-both evening and afternoon at the foot of this column
Thurs 21 Mar Songs of Praise, 6.30pm at Limestone View
Wed 20 Mar CTISAD REPS' MEETING 7.30pm Friends Meeting House, main meeting room.- Even if you are not a rep, but are interested in coming do contact Sally
Thurs 21 Mar Songs of Praise, 6.30pm at Limestone View
Messy Church: (formerly on third Sunday of Month, but now on hold) If you are interested in coming to Settle Messy Church please contact 01729 825285.
Prayer Meeting: To support the many on-going activities in our area; 01729 822311. First Mondays: 12.30pm midday Holy Ascension Church, Settle
Justice & Peace Group will not be meeting in March and April - but see their new website
8 May: Settle Justice and Peace Group: 7.15pm: Talk on "Live Simply Award" by Paul Kelly of Settle Catholic Church - to be held at Friends Meeting House.
10 May: Churches Together Barn Dance at Settle Catholic Church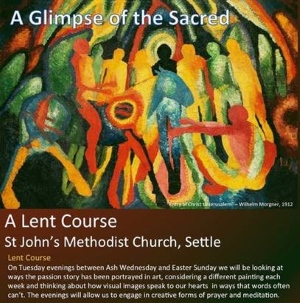 Churches Together in Settle and District: Lent Course: TUESDAYS March 12, 19, 26; April 2, 9, 16.
EVENINGS: 7.30 – 9.00pm
Venue St John's Methodist Church,
Church St, Settle. BD24 9JH
DAYTIME: 2.30pm start
Venue: Limestone View:
'Daring to see God now' - 2019 York Lent Course - written by Nick Baines- beginning March 12
All are very welcome at either event