Week of Prayer for Christian Unity: 18-25 Jan: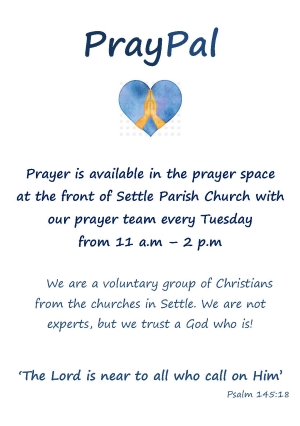 Please note the planned Joint Service on Thursday 18th Jan at 2pm has been postponed due to a long list of reasons- building work, other events, lack of availablity of leaders that afternoon.
The events which will take place are: -
Thurs 18th Songs of Praise, 6.30pm at Limestone View (lounge)
Tuesday 23rd Simple meal, 11.30 – 2pm at Settle Parish, with proceeds to Christian Aid
Tuesday 23rd Meeting for Worship, 12.15 – 12.45pm at Friends' Meeting House
Note:- Sun 21st Messy Church, 3.30 - 5.30pm at St John's Church Hall - takes place that week. All are welcome - especailly those with children - but it will just be a regular "Messy Church" which is always ecumenical anyway. Theme: Stairway to heaven
Tuesday 23rd There is a prayer space in Settle Anglican Church - at the front right of the Church.