Churches & Services
Download printable leaflet listing Times of Services
Settle
| | |
| --- | --- |
| Links to this website | Link to church websites |
Anglican Settle (achurchnearyou.com/church/939/)
Catholic -Settle (www.ssmaryandmichael.co.uk)
Christian Fellowship -Settle (www.settlechristianfellowship.com )
Friends - Settle (www.settlequakers.org.uk)
Methodist - Settle (www.settle-methodists.org.uk)
and District:-

Methodist - Rathmell
Methodist - Long Preston

Anglican Giggleswick village
(achurchnearyou.com/church/6880/)
Anglican Giggleswick School Chapel
Anglican Langcliffe (www.achurchnearyou.com/
benefice.php?B=46/183)
Anglican Long Preston
www.longprestonparishchurch.
blogspot.co.uk
Anglican Rathmell
(achurchnearyou.com/church/6918/)
Anglican Stainforth (www.achurchnearyou.
com/benefice.php?B=46/183)
Other:-
NISCU (Northern Inter-School Christian Union)
Anley Hall Nursing Home, Townhead
Abbeyfield Retirement Home
Limestone View Retirement Home

Messy Church 3.30pm 3rd Sun of month

Tuesday Coffee Mornings (10am-12pm) at three places:-

1. St John's Methodist Church

2. Fairtrade at The Friends Meeting House

3. Holy Ascension Settle Parish Church - followed by lunch and desert - 12-c1.45pm (Full lunch in summer, light lunch in winter)
Download CTISAD's new and updated:- Ponder as you Wander leaflet (A walk round Settle)
Home Page: Welcome

Last updated: 13 May 2018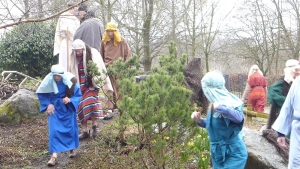 Click here for More pictures of the Settle Passion Play 2018
and also Leeds Anglican Diocese and Craven Herald Web Sites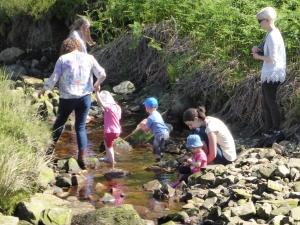 Picture of Messy Church visit to Keasden Head Farm in June 2017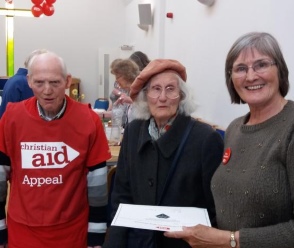 Presenting 50 year certificate at Christian Aid Coffee Evening May 2017- See report in Craven Herald
Churches Together in Settle and District 2016 AGM Minutes here.
Churches Together in Settle and District 2015 AGM Minutes here.
The recent CTISAD Barn Dance rasied £160 which has been sent to the Red Cross for use at the Bradford Refugee Project.
Thurs 17th May Songs of Praise, 6.30pm: Limestone View (lounge)
Prayer Meeting: To support the many on-going activities in our area; 01729 822311. First Mondays: 7.30 pm Holy Ascension Church, Settle
Christian Aid Week, 13-19 May This will be supported as usual, with door to door & street collections. The Coffee Evening will be held at the earlier time of 6-7.30pm on Wednesday, 16th May.
Wed 16 May - Talk by Paul Rogers at 7:30pm in St Mary and St Michael Parish Hall. Prof Paul Rogers, Peace Studies, Bradford University "Is a more Peaceful World Possible?"
20 May - Messy Church 3.30pm St John's Church