Fri 1st Passion Play get together to see how many will be participating this year [Good Friday is 19th April].
Come along to St John's Methodist Church for 7.30pm.
If you are interested but can't attend on Friday, please contact Michael Cullingworth (producer) at michaelcullingworth@gmail.com or 01729 823978.
Messy Church: If you are interested in coming to Settle Messy Church please contact 01729 825285.
Prayer Meeting: To support the many on-going activities in our area; 01729 822311. First Mondays: 12.30pm midday Holy Ascension Church, Settle
Thurs 21 Feb Songs of Praise, 6.30pm at Limestone View
Wed 13th Feb 2019: Justice & Peace Group, 7 for 7.30pm at Friends Meeting House. A talk by Jo Rhodes & Sarah Wiltshire of Settle Hub about local projects, including 'Nurturing Neighbourhoods' and the 'Timebank'.
Practice for World Day of Prayer (Formerly Womens World Day of Prayer): Tue 26 Feb 5.15pm - Holy Ascension.
Fri 1 March 7pm Holy Ascension Church Settle: World Day of Prayer All welcome both Men & Women.

---
Churches Together in Settle and District: Lent Course: TUESDAYS March 12, 19, 26;  April 2, 9, 16.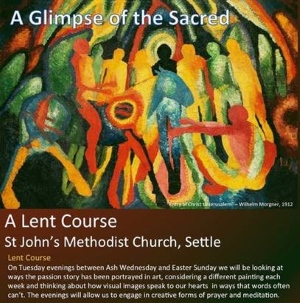 Art and Faith:   A Glimpse of  the Sacred:
-TUESDAYS March 12, 19, 26;  April 2, 9, 16.
EVENINGS: 7.30 – 9.00pm
Venue St John's Methodist Church,
      Church St, Settle. BD24 9JH
DAYTIME: 2.30pm start
Venue: Limestone View:
'Daring to see God now' - 2019 York Lent Course
beginning March 12
All are very welcome at either event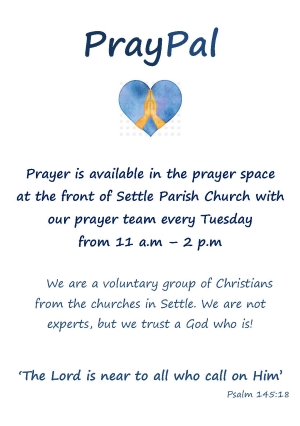 The CTISAD Barn Dance in Spring 2018 raised £160 which has been sent to the Red Cross for use at the Bradford Refugee Project.