Churches & Services
Download printable leaflet listing Times of Services
Settle
| | |
| --- | --- |
| Links to this website | Link to church websites |
Anglican Settle (www.settlechurch.org.uk)
Catholic -Settle (www.ssmaryandmichael.co.uk)
Christian Fellowship -Settle (www.settlechristianfellowship.com )
Friends - Settle (www.settlequakers.org.uk)
Methodist - Settle (www.settle-methodists.org.uk)
and District:-

Methodist - Rathmell
Methodist - Long Preston

Anglican Giggleswick village (www.settlechurch.org.uk)
Anglican Giggleswick School Chapel
Anglican Langcliffe (www.achurchnearyou.com/
benefice.php?B=46/183)
Anglican Long Preston
www.longprestonparishchurch.
blogspot.co.uk
Anglican Rathmell(www.settlechurch.org.uk)
Anglican Stainforth (www.achurchnearyou.
com/benefice.php?B=46/183)
Other:-
NISCU (Northern Inter-School Christian Union)
Anley Hall Nursing Home, Townhead
Abbeyfield Retirement Home
Limestone View Retirement Home

Messy Church
Sunday Youth Group

Tuesday Coffee Mornings (10am-12pm):-
St John's Methodist Church
Fairtrade at The Friends Meeting House
Holy Ascension Settle Parish Church - followed by lunch and desert - 12-c1.45pm (Full lunch in summer, light lunch in winter)
Home Page: Welcome

Last updated: 1 March 2018
Picture of Messy Church visit to Keasden Head Farm in June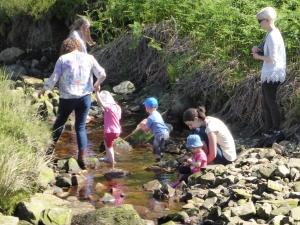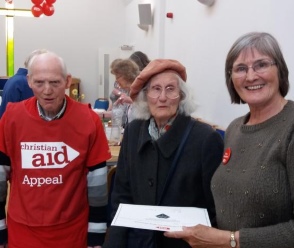 Presenting 50 year certificate at Christian Aid Coffee Evening - See report in Craven Herald
Below:-Churches Together Barn Dance - Catholic Church Hall in Aid of Saving World Wildlife for Future Generations - 5 May . The Barn Dance raised 133.50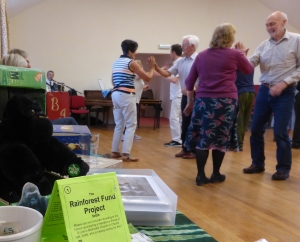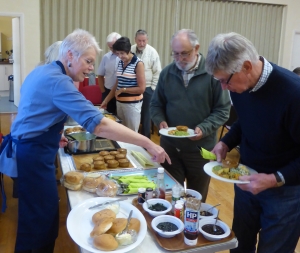 Churches Together in Settle and District 2016 AGM Minutes here.
Churches Together in Settle and District 2015 AGM Minutes here.
Thur 8 March: Yorkshire Historic Churches Trust: "Settle Churches Stroll" - not a CTISAD event - but of interest to you all: . A sort of pilgrimage/ tour of 8 of Settle and Giggleswicks Churches. Booking necessary. Bring strong footwear!.For further information and booking please contact media@ydmt.org or 015242 51002. www.yhct.org.uk/news/settle-churches-stroll/ 10:00am to 3:30pm Starting at Giggleswick School Chapel
Download CTISAD's new and updated:- Ponder as you Wander leaflet (A walk round Settle)

Prayer Meeting: To support the many on-going activities in our area; 01729 822311. First Mondays: 7.30 pm Holy Ascension Church, Settle
Thurs 15th March Songs of Praise, 6.30pm at Limestone View (lounge)
11 April - Justice & Peace Group - at Friends Meeting House : - Maggie Bruno on Assylum Seekers and Refugees.
Lent series starts Wednesday, 21 February
at St Mary & St Michael Church Hall, Settle
Wed 28 Lent Meeting cancelled due to snoy weather
Barn Dance: Friday 20 April Ticket price £7.50/£1 child. The time was kept at 7 – 10.30pm in the Catholic Hall, with Bill Johnson as our caller.
Christian Aid Week, 13-19 May This will be supported as usual, with door to door & street collections. The Coffee Evening will be moved to 6-7.30pm on Wednesday, 16th.