(Download leaflet listing Times of Services of Churches in Settle and District for 2016)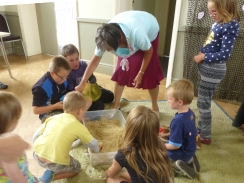 Messy Church Third Sunday of the month 3.30pm-5.30pm (Except sometimes if there is a holiday club in the month)
Held at St John's Church Hall, Church Street, Settle. Fun church for families of all ages - celebration, Craft Activities and Meal. (Individuals welcome too)

NISCU (Northern Inter-School Christian Union) clubs: email
Niscu Craven is part of a larger charitable organisation working in Cumbria, North Lancashire and the Craven area of North Yorkshire. The work involves visiting local schools and delivering assemblies, running lunch clubs and taking lessons. Running alongside this is a residential programme and one off youth events and activities. Niscu Craven is funded by local churches and individuals in the area.


For further information, email or telephone 07919 694167


Catholic Church Tillman Close, Settle, (01729 822525)
St Mary's and St Michael's Catholic Church
email

Masses:

Sat (Vigil of Sunday) 6 pm
Sun 11.15 am
Tue 10 am
Thur 10 am
Fri 10 am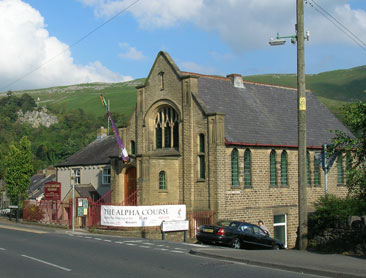 Settle Christian Fellowship, Duke Street, Settle (01729 851332, 01729 823046, 07761 678178)
Sunday 10.45am
Mon 7.30 Prayer Meeting
House group Wednesdays. Phone for details or see website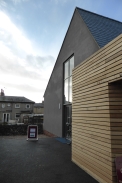 Settle Methodist Church, Church Street, Settle BD24 9JH, (01729 822554) e-mail Behind the red brick bungalow
see also Settle Methodist Circuit website -
Sunday 10.30am Morning service
Evening service only on special occasions 6.30pm



Tuesday 10 am - 12 am Coffee Morning, 1st Tuesday in month coffee morning for special charity of the month, other Tuesdays for church funds.
View of Church from above Castleberg. Church on left, hall on right
Settle Quaker Meeting , Kirkgate, Settle (01729 822313) email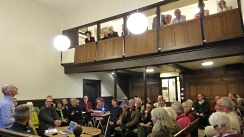 Meetings: Sunday 10.30 – 11.30am (with children's class)
Tuesday 12.15 – 12.45pm

Tuesday 10 a.m. -midday: Traidcraft shop and coffee morning

Left: Justice and Peace meeting in the Meeting House - with the gallery open.
Back to top
The three Anglican Parish Churches (Settle, Giggleswick and Rathmell) now have a joint timetable, with different arrangements each week of the month.
Settle Parish Church - Holy Ascension Church Street, Settle (01729 824191) email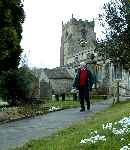 Giggleswick Parish Church- (01729 824191) email
St Alkelda, Giggleswick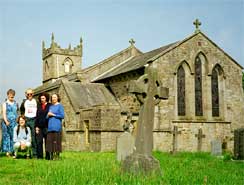 Rathmell Parish Church (01729 824191) email
Rathmell Methodist Church (01729 822554) e-mail
Sunday 2.00 pm except 2nd Sunday of month when it is at 10.30am
2nd Tuesday of month(ish) (Not in summer): Guild, with speakers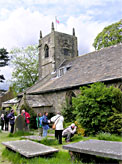 Long Preston Anglican Church (01729 851511) email
Churchyard wildlife visit
Every Sunday 11.00 am: Morning Worship
St Mary's Parish Church, Long Preston
Church Street
Long Preston
BD23 4NJ
Back to top

Long Preston Methodist Church-01756 793522
11am Sunday Worship)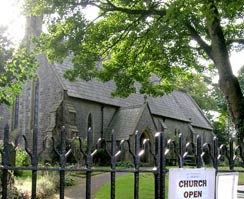 Upper Ribblesdale: Langcliffe, Stainforth and Horton:(07977141869) email
Only one service at each church each Sunday: Please see church notice boards or telephone to enquire where and when.
9.00 Holy communion BCP
10.30 Holy Communion CW
3.00/6.30 Evensong
Langcliffe Parish Church(above right) (07977141869) email See church notice board for times of services and website-St John the Evangelist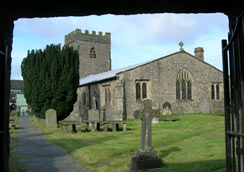 Horton in Ribblesdale Parish Church(07977141869) email See church notice board for times of services- St Oswald's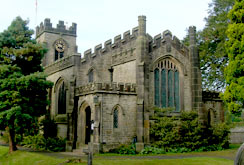 Stainforth Parish Church(07977141869) email See church notice board for times of services - St Peter's
Anley Hall Nursing Home Skipton Road:

Last Sunday of month 2.15pm for 2.30pm - Praise Service - <!!--(07779990799) --> email 07931 511652 (No service in December). If you would like a lift out, or know an old person who would like a lift out phone 01729 822138 email

First Thurs of month 2.00pm - Holy Communion (organised by Settle Parish church staff) (01729 823380) email
---------------------------------
Limestone View
Songs of Praise at Limestone View, Lower Greenfoot, Settle
You are invited to come along to sing with the residents 6.30 – 7.15pm In the Residents' Lounge (near the Library) Singing from Mission Praise books Third Thursdays 20 Oct, 17 Nov, 15 Dec 2016
.
Abbeyfield House
Commnunion services are held - First Thursday of every month: 10:15 a.m