Justice and Peace Group
Meets the Second Wednesday of the month at 7.00 for 7.30pm
(But note there are lots of exceptions this autumn when it will be on different Wednesdays)
at the Friends Meeting House Settle.
(Note you are also welcome on the third Wed of the Month at the Friends meeting House to the "Writing letters for Amnesty" group - completely separate to J and P - drop in between 5 and 7.30pm-)
(Extra to J&P - but many are involved - Limestone View 7.15- 8.45pm, Thursday August 30th - COULD SETTLE HOST A REFUGEE FAMILY?
Three meetings have been held so far with around 40 people signed up to support us. There are many challenges on the way to make it happen but a strong sense that Settle is a resourceful community that could help welcome a Syrian refugee family
---
ORDINARY J&P MEETING ON ORDINARY DATE:
Wed 12 Sept, 7pm for 7.30
BUILDING THE SANCTUARY EVERYWHERE MOVEMENT,
Marian McNichol will lead a discussion on how Quakers nationally are part of a movement for change on forced migration and how Settle Quakers are getting involved.
Quaker work on forced migration and Sanctuary is based on a testimony to true equality; all must have the same rights and privileges. It is built on a belief that current migration policies are racist. This workshop provides an opportunity to explore these issues with each other and decide for yourself whether you could sign up to the Quaker Sanctuary Everywhere manifesto or if not, what changes you would like to make to it to enable you to do so.
---
October: Meeting on 24 Oct because it is One World Week:
ONE WORLD WEEK
'The World is Changing – How about us'.
Events nationally throughout One World Week will be exploring this theme asking "what changes can we make to move towards a world in which we can all thrive within the life-supporting systems of our common home". We will hold our usual evening meal at the Catholic Hall at 6:30 on Wednesday 24th October followed by a film about ways in which "our world is changing" using resources from the OWW website and a discussion about the second half of the theme – "What about us?". More details in the next newsletter.
---
ADVANCE NOTICE
Wed 22 Nov
Our November Meeting will be on the third Wednesday of the month, the 22nd, not the usual second. We will be showing a film at the Victoria Hall about global tax evasion called "The Spider's Web" followed, we hope, by a speaker from an NGO working on tax justice issues. More details in the next newsletter.
---
NOTES AND PAST EVENTS
RIDE FOR THE COMMON GOOD 23 Sept 2018
The Ride for the Common Good arrived in Settle on 23 September 2018. The evening meal in the Roman Catholic hall was well attended and riders stayed overnight in people's homes or at the Settle meeting house. The following day local people were invited to sign the "Declaration for equality and the common good" before the ride set off for Skipton and Keighley with three people from Settle going with them as far as Airton meeting house. At Airton, coffee, cake and a short history of the meeting house were served. After 12 days of cycling along historic Quaker routes through the country, the ride was joined by people from all over the country to deliver the Declaration to No 10 Downing Street on 3 August 2018.
You can view photos and read more about some of their adventures here: https://www.facebook.com/rideforequality/
The New Economics
If you would be interested in joining a study group organised by the Friends, based on the series of booklets on "The New Economics" produced by Quaker Peace and Social witness, please contact John Rose by phone at (01729) 822 553 or email at johnarthurrose@gmail.com .For further information see https://www.quaker.org.uk/our-work/economic-justice/new-economy where you can download copies of the booklets or order printed copies of the full set.
13 June 2018
5. Wed 13 June: Talk on Syrian Refugees Community Sponsorship - Organised by Settle Justice & Peace Group 7:30pm - in St Mary & St Michael Church Hall, BD24 9RA
Sean Ryan MBE will speak about this new and revolutionary approach to
refugee resettlement in the UK.
16 May - Talk by Paul Rogers at 7:30pm in St Mary and St Michael Parish Hall. Paul Rogers, Peace Studies, Bradford University "Is a more Peaceful World Possible?"
(This is the evening of the Christian Aid coffee evening, so it was suggested to hold that event earlier in the evening: 6-7.30.)
11 April - Maggie Bruno on Assylum Seekers and Refugees.
14 March - No meeting
7 Feb - Talk on Kwezana (Note this is not the original date of 14 Feb
10 Jan 2018 - Medaille Nadia Trust - victims of trafficking
Dec 2017 - Calais- Recommended: Google search for "people without papers" videos, book "The lightless sky" by Gulwaili Passarlay. The most important hing you can give is a smile. It says"I see you". give dignity. Video "What they ook with them" by UNHCB
Nov 2017 - Writing Cards for Amnesty and villages in Palestine.
Oct - No meeting on Wed - but Fri 27th Oct: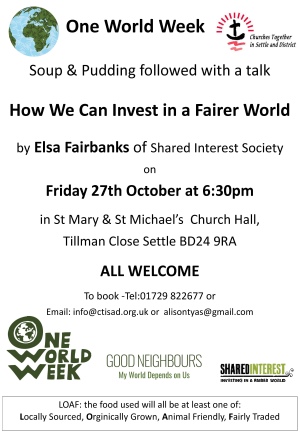 (Next: Not a Settle J&P event but of interest:-
Fri 26 Aug: Coffee Morning for Amnesty International at Friends Meeting House)

Sept 14 2016 : Includes Talk on Veterans for Peace by Veterans for Peace
(Next: Not a Settle J&P event but of interest:-
Sept 17- A Day of reflection for all those involved in action for Social Justice
organised by Leeds Catholic Diocese Justice and Peace Commission
St.Mary & St.Michael Church, Settle
http://www.leedsjp.org.uk/
25 Oct: One World Week Meal and
Talk by Shelagh Fawcett at St.Mary & St.Michael Church, Settle

Nov 9: Writing cards for peace (re Palestine and Amnesty)
Dec 14th: Likely to be cake, coffee and mincepies.
Oct 12: Planning meeting for the Settle One World Week Talk

Sept 14 2016 : Includes Talk on Veterans for Peace by Veterans for Peace
May 11th Talk by local climate change specialists Dr Julia Hargreaves and Dr. James Annan – " Climate Change and what we can do about it"
April13th Judy Rogers of the Yorkshire Dales Millennium Trust talk on Craven and refugees
Not a J and P meeting but related: Wed 21 Oct: Amnesty International Letter writing session: Call in between 5.30pm and 8.30pm on Wed 21 Oct at the Friends Meeting House. Deatils form Heather Chappell. 10729 268912)
Thur 22nd Oct. One World Week meal and talk by Philip Lewis on Islam: "The burden of history; why realtions with Muslims are difficult"
6.30pm at Settle Pairsh Church: Please book - either by obtaining a ticket form your local church rep or by emailing: Alison Tyas at residentfriend@settlequakers.org.uk
Donations of locally sourced food would be very welcome the day before. Again please email residentfriend@settlequakers.org.uk if you can supply some. (though at the time of updating this page (10 Oct - I think we have enough promised)
Produce fulfilling at least one of the following would by useful:
L O A F
Locally sourced, Organically produced, Animal friendly, Fairly traded.
Wed Nov 11th: Prof Andrew Sayer – "Can we afford the rich?"
Why We Can't Afford the Rich
Talk by Andrew Sayer, Professor of Social Theory and Political Economy at Lancaster University, UK
7.30pm Friends Meeting House Settle
Organised and Settle Justice and Peace group of Churches Together Together in Settle and District.
Prof Sayer's paperback version of his book of this name will be launched later in November. (Winner of the British academy Peter Townsend Award 2015)
The book exposes the unjust and dysfunctional mechanisms that allow the top 1% to siphon off wealth produced by others through the control of property and money. As the risk of runaway climate change grows, it shows how the rich are threatening the planet by banking on unsustainable growth.
December 9th - Possible short video on Militarisation in Education
Jan 13th: probably something related to Scientists for Global Responsibility
Wed Nov 18th: Amnesty International and other card writing evening
Oct 14th 2015:– Pat Saunders – Bangladesh
September: discussion and planning meeting
No meeting in August.
July 8th – DVD "Monsenor – the last journey of Oscar Romero"
10 June Keith Reeves on his experience in Palestine as an Ecumenical Accompanier.
May: 13 May 2015: Discussion about future events.
17 April: St John's Church: Hustings with Parliamentary Candidates.
April: 8 April 2015 ???: Friends Meeting House
No event in March because of Lent Meetings
11 Feb: 7.30pm Friends Meeting House
Rev Timothy Fox of Bentham lead discussion on climate change, Operation Noah; and the series of Lent Talks they are holding in Bentham at their coming Lent lunches this year .
Judith Allinson lead discussion on the new Green Christian "Saving Wildlife" leaflets - at a time when Extinction rates are 1000 times the natural rate.
14 Jan 2015: Quiz and Discussion about Benefit Cuts
December:
10 Dec 2014: Writing cards to prisoners of conscience
November: Talk on Palestine 2014
One World Week -19 -26 October 2014.
Living Differently: Breaking Chains & Making Change
Read Reports in Craven Herald and Christian Ecology Link
OneWorld Week Event: - Thur 23 Oct: 6.30pm: Meal made of of locally produced produce and fair trade produce (donations of produce welcome the day before to be made into soup/casserole etc.- please contact Alison (below) to say what you can bring)
Speaker Ben Oldam:
"The way Climate Change is affecting Poorer People and what CAFOD is doing about it."
Location: Settle Catholic Church Hall (St. Mary & St. Michael's Hall), Tilman Close Settle BD24 9RA 6.30pm. To Book ( state if vegetarian etc) : phone Alison Tyas 822313 or email alisontyas@gmail.com
Living Differently
Breaking Chains & Making Change
Come along and enjoy
A simple meal
Locally & ethically sourced - offers of food donations
to Chris Yates 822690 or Alison Tyas 822313 asap
Followed by an informative talk by
Ben Oldham ( OG) from CAFOD
St Mary & St Michael Church Hall,
Tillman Close, Settle
Thursday 23th October
6.30 for 6.45p.m.
ALL VERY WELCOME
To Book ( state if vegetarian etc) : phone Alison Tyas 822313
Organised by the Justice & Peace group, part of Churches Together
in Settle and District, for our local community
FOR ONE WORLD WEEK
www.ctisad.org.uk
NO CHARGE
Donations welcome
(You can hear the talk at Trinity Methodist Church Skipton on 23 Sept)
10th September 2014
We planned a future programme and Alison Tyas will spoke about the 7 mile scarf
No Meeting in August:
11 June 2014- Talk on Christian Aid.
14 May 2014 7.30pm
Folow up event and discussion on the problems of inequality, inefficeincy and running of the country and finance caused by bankers (and others) having such huge bonuses. led by John Asher
April Meeting: Thur 10 April 2014: Public Talk about Drones
(No meeting on 9th March because of Lent Course)

12th February 2014.
John Asher spoke at 7.30 on 12th February at the Friends' Meeting House, On the problems of the Top bankers siphoning off so much money from the sysetem and how this is being allowed to happen.
30th Jan 2014: Public Meeting: with Erica Cadbury from CAB - (Citizens Advice Bureau):
Impact of
Welfare Benefit Reform
In Craven

Speaker: Erica Cadbury. Manager of Craven Citizen Advice Bureau
on 30th January 2014 at 7:30pm - St Mary & St Michael Parish Hall,
Tillman Close, Settle BD24 9RA - ALL WELCOME
Organised by Churches Together in Settle Justice & Peace Group
More information: email: mich_chris@btinternet.com
Significant changes have taken place in the UK welfare benefit system since April 2013. These affect working age people receiving benefits &/or tax credits, as well as people with disabilities aged between 16 and 64 who were previously receiving Disability Living Allowance.
Find out about main changes and some of the concerns regarding the impact of the changes.
8 Jan 2014: St Vincent de Paul Society gave a talk:
Settle SVP who gave an excellent overview of their work  locally, visiting the sick, lonely and those in need;  in Leeds providing many services to the needy and through "twinnage"   giving help to a group in Tamil Nadu and through a family connection to mothers and babies in Africa.  A short DVD of the work in Leeds is available.
The group planned a letter to be sent to Parliamentary Constituency Offices, asking the parties to show how they will achieve the targets of the Climate Change Act of 2008 to reduce greenhouse gases by 80% by 2050.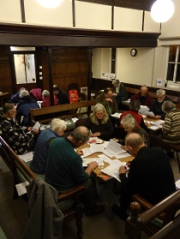 December 2013:
We wrote cards of encouragement to prisoners and to parishes in Israel
November:
During the November meeting: We were told that the WI members in Settle are to arrange collections for the food bank in Skipton. Tins and dried goods can be left at the Friends' Meeting House on Tuesday mornings and Sundays specifically (the meeting house is usually open every day and the box for the goods will be in the meeting room). We were reminded that the Catholic charity SVP will be collecting Toys Tins and Things next month for distribution to those in need in Leeds.
Here is a draft copy of the terms of reference of the group
One of the nine objectives of the group is
"To inform regularly the representative members of Churches Together in Settle and District of issues that concern us, and – with their agreement – to speak out on their behalf"
Read the other eight objectives here
i.e. this group is open to anyone interested in Justice and Peace Issues (whether they belong to a local church or not), but quite a lot of the activies involve Planning Events for Churches Together.,