Last updated: 26 Sept 2015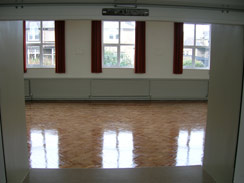 See lower down for facilities, charges for room hire
and programme of weekly public events
(bridge, scottish dancing, line dancing, WI,
chidrens activities, orchestra, Age UK and much more)
How to find us: The Hall is situated on Church Street (B6480)
between the red brick bungalow number 19 and the house number 25
From the southeast: Go straight through Settle, under the railway bridge
then look for the red brick bungalow on the left
and go down the lane at the side

OR coming into Settle from the north:, go over the river bridge,
look for the red brick bungalow on the right and turn down the side of it.
Parking is on the main road or at the car park by the petrol station in Settle.. Disabled parking is next to the hall

Main Hall

Primary Room


Left: Hall floor newly varnished 19 Jan 2010

Christmas Meal Dec 25 2009 in "Primary Room"
See youtube video of 2013 Christmas
Location:-It is on the opposite side of the road to the church.

Hall: with stage


This lamp post above, with (on this occasion) a poster, marks the alley way leading to the church hall. BD24 9JH (See map)





Holiday Club Aug 2015


Above:- St John' Church (right) and church hall (left) from Castleberg flag pole.

St John's Methodist Church Hall is used by many groups in Settle. It comprises:

A large hall, and
Two smaller rooms for hire by individuals or groups
Kitchen facilities
Toilets and 2 Disabled toilets

All the groups below welcome new members at their activities. Line dancing, dancing, Scottish country dancing, spinning, bridge, Age UK, Settle Orchestra, Langcliffe Singers

There is currently space for about 5 cars, next to the Hall, and usually some space on the main road for a few more. (There will be space for a few more once the building work has finished)

To book a room in the hall, phone 01729 824661

The Hall was renovated over winter 1999/2000 and there was a grand re-opening on March 31st 2000. The floor was revarnished on 19 Jan 2010.

We are currently building a new church/worship room next to the church hall - which we hope will be finished by December... exciting!


Bold Print = Hall used for this event
Italic print = One of the smaller rooms used for this event

If the Hall is used for Blood Doning,(about every three months) the events on that day do not run.

Very occasionally Church events take priority over regular events - E.g. 22 October we are holding Churches Together in Settle One World Week LOAF Meal in the evening instead of Scottish Dancing)

Enquiries: 01729 824661

Morning

Afternoon

Late Afternoon

Evening

Mon




Art Group Mondays 1.45pm-4.00pm (Small Meeting Room)
Line Dancing
7.15-9.30
Weekly
(All year)

Tue

Tai Chi
9.00am-12.30am
Weekly
(Mini Terms)

Settle Spinners
1.30-3.30 (Weekly - Sometimes - Small Meeting Room)

Bridge Club
6.30 - 9.30

Langcliffe Singers Choir Practice 6.30 - 9.30 Weekly (Term Time)

Wed

1st Wed of month: W.I. 2-4

Line Dancing
7.15-9.30 Weekly All year



Thursday

Pioneer Projects Bentham Activities and Art 9-4 Weekly all year


Pioneer Projects Bentham (Memory Loss) Activities and Art - 9-4 Weekly all year

Bridge 1.30-4.30 weekly every week

Scottish Dancing
7.30 - 9.30 weekly spring and autumn.

(But not 22 Oct - It is One World Week Meal that day. all welcome)

2nd Th: Thursday Group 7-9.30pm

Friday

Age UK +Bowling
9.00-2.30



Age UK 9.30-2.30

Settle Orchestra 6.30-9.15pm weekly term time

Saturday





H.H.Dancing
9.00am-1.30pm
Weekly (Term Time)

Sunday

Messy Church (3rd Sunday of month) 3-6 (actually 3.30-5.30)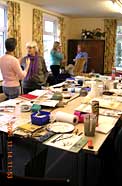 An art workshop in the Primary Room 14 Nov 04

So, if spinning, line dancing, ballet and tap dancing, Scottish dancing, ballet dancing, Brownies, bridge or wood-turning are of interest you, do come to one of the sessions.


Room Hire Charges: as in 2014 (per session - sessions are about 3 hours long):
Hall £23
Primary Room £15
Sewing Room £7
Kitchen when used for Cooking £8.00
Kitchen when used for tea or coffee £3.00
To book a room phone 01729 824661

If there are any questions please contact 01729 824661

In the case of hirings involving public entertainments
the above charges apply plus 50%

It is sometimes hired for childrens birthday parties.


Click here for a list of Ecumenical, Churches Together in Settle and Methodist events in Settle


Settle Scottish Country Dancing Class Christmas Session 2005