Settle Methodist Circuit
17th Annual Hymn Festival and
Hymn Writing Competition
CLICK HERE to here to download application form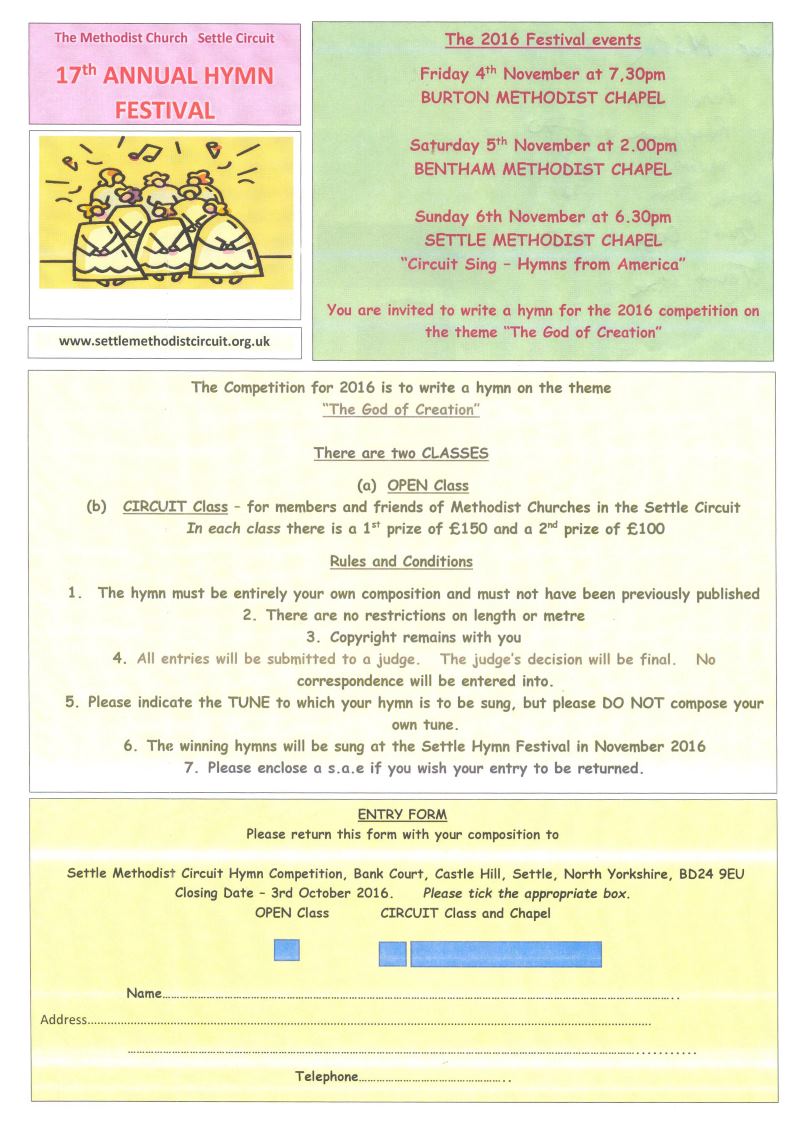 CLICK HERE to here to download application form
The 2016 HYMN FESTIVAL will be held
4th - 6th November 2016
Fri 4 Nov Burton in Lonsdale Methodist Chapel 7.30pm
Sat 5 Nov: Bentham Methodist Chapel 2.00pm
Sun 6 Nov 6.30pm Settle Methodist Chapel
"Circuit Sing - Songs from America"
You are invited to submit an entry for the Hymn Writing Competition. The 2016 competition is to write a hymn on the theme:
"The God of Creation"
There are two classes:
(a) Open Class
(b) Circuit Class - for members and friends of Methodist Churches in the Settle Circuit
In each class there is a 1st prize of £150 and a 2nd prize of £100
Rules and Conditions:
The Hymn must be entirely your own composition and not previously published
Ther are no restrictions on length or metre
Copyright remains with you
All entries will be submitted to a judge. The judge's decision will be final. No correspondence will be entered into
Please indicate the TUNE to which your hymn is to be sung. Please do NOT compose your own tune
The winning hymns will be sung at the Settle Hymn Festival in November 2016.
Please enclose a s.a.e. if you wish your entry to be returned.
CLICK HERE to here to download application form and return it to:
Settle Methodist Circuit Hymn Competition, Bank Court, Castle Hill, Settle, N Yorks BD24 9EU
Closing Date: 3 October 2016