Prescription Speaking
The Timely Re-launch

"Ladies and Gentlemen - There's one direction – and it's forward", said Bill Mitchell to a full room at the Craven Speakers Club in Skipton this February. He was speaking at the first Yorkshire Dales Area re-launch of his user-friendly way to speaking success- Prescription Speaking (often abbreviated to P.S.)
Bill presented a detailed exposition of his brainchild and took questions from the floor.
A prescription speech titled "One Direction" was then delivered by Chris Birch. This covered many of the duties, qualities and responsibilities required of today's theatre directors.
The assignment was to inform and entertain and, after audience questions, it was evaluated by Craven President, Simon Thompson.
The clarity of Bill's message was praised along with the simplicity of the prescription speech construction, where the objectives and intentions of the speaker are stated in advance.
It was also remarked upon that one of the most difficult tasks- the writing and constructing of good speeches- became easier, because the outcome is specified, in advance, by the speaker.
It may also assist evaluators to construct and present more effective guidance to speakers when these evaluators are better informed about the speakers' intentions and expectations.
So onwards and upwards – with P.S.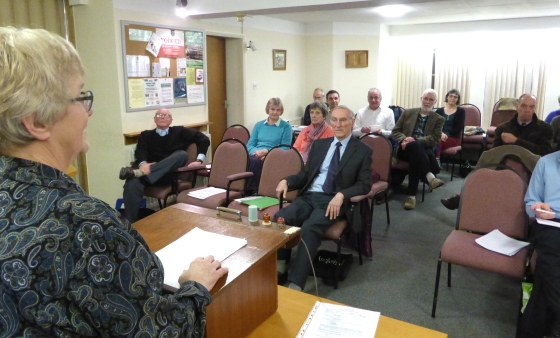 A picture of the meeting when Bill gave the talk on prescription speaking